Arsenal
Wenger 'not worried' about Arsenal future with silverware in his sights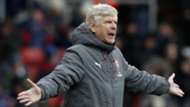 Arsene Wenger is "not worried" about his Arsenal future, with his focus locked on the present and the pursuit of silverware.
The long-serving Frenchman has spent over 21 years at the Gunners helm, with considerable success enjoyed during an iconic reign.
Questions have been asked of his suitability to the job in recent years, though, with FA Cup triumphs papering over the cracks of Premier League decline.
Wenger was, however, to earn a two-year contract in the summer of 2017 and is happy to continue letting others debate how long he has left in north London.
"That is not my worry," he told Sky Sports when quizzed on his future.
"When I came here in 1996 on October 1 I was not worried about how long I was going to be at the club, I was just worried about the next game and trying to win it.
"It happens that I'm still here, but overall there is only one desire, and that's to do as well as I can for the team."
Wenger could counter his critics with another trophy on Sunday, as Arsenal prepare to face Manchester City in the Carabao Cup final.
Pressed on whether victory at Wembley would make the 2017-18 campaign a success and justify the faith shown in him, the 68-year-old added: "I don't think like that.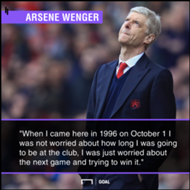 "After winning a trophy you want to win every single competition, we want to do well in the Premier League, we want to do well in the Europa League, we wanted to do well in the FA Cup.
"After that you have to leave the judgement to other people. We are here to serve the club, and the club then has to judge if the work we do is good enough or not."
While reluctant to be drawn on the value of a Carabao Cup win, Wenger admits that he is eager to get his hands on a prize which has eluded him throughout his tenure.
"Yes! Of course," he added.
"I haven't won it, but I must say as well that over the years I have always used the League Cup for the youth team, and we always had good young players.
"It has changed a little bit now, we are in the final, and it's a good opportunity to win a trophy. You have so many teams in the Premier League who fight for trophies, and like everything you want to win."