MLS
Welcome home Schweinsteiger! Manchester United outcast draws big crowd in Chicago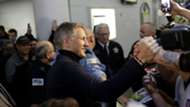 Bastian Schweinsteiger may not have been wanted by Jose Mourinho at Manchester United, but the Chicago Fire fans are surely happy to have him.
A $4.5M trial for Schweini in Chicago
The German midfielder arrived at Chicago's O'Hare International Airport on Tuesday, with dozens of supporters flooding the terminal to greet the Fire's newest designated player.
.@BSchweinsteiger has landed

Head over to Facebook to watch his welcome live!  https://t.co/h25U0GiUJY #cf97 pic.twitter.com/lpUmIYhBx9

— Chicago Fire (@ChicagoFire) March 28, 2017
Schweinsteiger signed with the MLS club last week for a reported $4.5 million, leaving behind Manchester United after sitting on the sidelines for most of the 2016-17 season.
The Fire have been looking for a star player of Schweinsteiger's caliber for years now, and after getting denied by the likes of Didier Drogba, they finally have their man.