Nigeria
Nasarawa Amazons' Christopher Danjuma eyes Rivers Angels' fall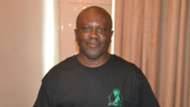 Ahead of Sunday's Nigeria Women Football League Champions Shield, Nasarawa Amazon's head coach Christopher Danjuma is eyeing victory in an exciting fashion against Rivers Angels.
The Lafia based side will face Edwin Okon's ladies for the first time, since defeating them 1-0 in the 2017 Super Four tourney to claim their second league crown in history.
And the Falconets coach is looking forward to the epic showdown with his former head coach with the Super Falcons and he is confident of securing another triumph.
"We had a nice outing last season. If you go back to the memory lane, from 2013 till date, you will discover that we've been an ascending club and we have always wanted to better our performance every season," Dajuma told Goal.
"Along the line, we crashed out of the Federation Cup, and we found out we could fight for the league title at the Super Four and had to go for it. It was great winning in the end.
"Okon is an excellent man and a coach who allows you express yourself. Anytime he comes for an advice, he does it with great maturity too and that gave me some insights on the situation which helped me when I took over from him as a head coach.
"It is very exciting and great privilege taking part in this game because this is a height the women's football has reached and there are huge media hypes around the game.
"I believe the best of women's football in Nigeria will be seen tomorrow. I will urge everyone to turn out in great number to enjoy a great standard of women's football.
"We want to win and entertain the fans. We understand how Rivers Angels will come up against us since we defeated them in the Super Four. When you get somebody injured, the person is coming back to hurt you back. We will be very prepared for the challenge against Rivers."