Chapecoense
'We had tears in our eyes' - Chapecoense star Ribeiro overwhelmed by repeat of penalty heroics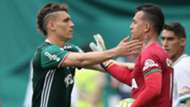 Chapecoense star Moises Ribeiro has admitted he was brought to tears by their Copa Sudamericana win as the Brazilian club continue rising from the ashes of last year's horrific plane tragedy. 
Two saves from goalkeeper Jandrei in Tuesday's penalty shoot-out against Defensa y Justicia helped the team through to the last-16 at the expense of the Argentines. 
Jandrei's heroics brought to mind Danilo, who made a similar impact in the 2016 competition to down Independiente before perishing alongside 70 other passengers on the LaMia flight that went down outside of Medellin on the way to the final. 
Messi's cousin and the other side of football
Ribeiro was injured for that fateful fixture and did not travel with his team-mates, and revealed that he could not help but think of his fallen comrade amid the euphoria of victory. 
"When it went to penalties the two teams lined up. There a film started to pass through my head of the moment Chapecoense went through in the Sudamericana last year," he told Goal, visibly moved by the memory. 
"And when Jandrei saved that penalty I remembered Danilo.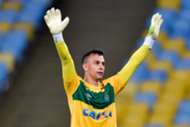 "Danilo saved four penalties that night [against Independiente] going to the right. I talked to Jandrei to make him dive to the right." 
The player confessed that playing in the competition again is tough on everyone associated with Chapecoense, who were forced to rebuild the team almost from scratch after seeing almost their entire starting squad lost in the accident. 
"Tears filled my eyes as I remembered the good times I had with my team-mates," he said. 
"I cannot even begin to explain the emotion I felt when we went through. I am playing for them."
Chapecoense qualified for the Copa Libertadores in 2017 after being awarded the Sudamericana trophy in a moving gesture from fellow finalists Atletico Nacional. 
After finishing third in their group, however, the Brazilians re-entered the Sudamericana, where they will now face either Flamengo or Palestino of Chile in the last-16.