Watford
Watford wing wizard Deulofeu showing why he was once called the 'new Messi'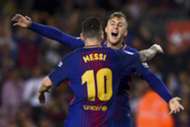 "He's got that talent that you dream to have, he's got the talent that anyone would pay for a ticket to watch him. [He can be] as good as he wants - that's a big part."
Roberto Martinez knew of Gerard Deulofeu's potential when the then 21-year-old tore Middlesbrough apart with a goal and an assist to help Everton into the League Cup semi-finals in 2015.
The Spanish winger won that match almost single-handedly - much as he did with last weekend's stunning individual performance that propelled Watford into the FA Cup final .
With the Hornets 2-0 down to Wolves midway through the second half , manager Javi Gracia opted to throw Deulofeu on to spark a fightback - and the 25-year-old responded with a performance that will go down in Watford folklore.
It only took 13 minutes for Deulofeu to give his team a lifeline - with one of the great FA Cup goals - as he took advantage of a tiny pocket of space to scoop a shot into the top corner over the wall of Wolves defenders and goalkeeper John Ruddy.
After the Hornets spiritual leader Troy Deeney won and converted a penalty to send the match into extra-time, Deulofeu completed the comeback with a brilliant, low finish into the far corner, surprising Ruddy with the timing of his shot.
This was the kind of match-winning wizardry that has long been touted for Barcelona youth product Deulofeu - since he signed a contract with Nike as a 14-year-old and earned inevitable comparisons with teammate Lionel Messi.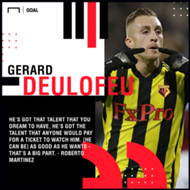 He initially enjoyed the notoriety of being an up-and-coming star, once famously telling opponents in a youth match to, "pass by the dressing room afterwards and I'll give you an autograph."
But the pressure of being likened to living legend Messi has been a big burden to bear, and one that Deulofeu has come to understand was terminal for his Blaugrana career.
"It was more harmful than beneficial," he told  Forza Milan in 2017 when asked of the Messi comparisons.
"Normally I don't read the newspapers, but I remember those headlines well and it ended up hurting me because there were too many expectations on me from Barcelona fans.
"There is only one Messi."
Struggling to establish himself at Barca, Deulofeu went on loan spells at Everton and Sevilla before joining the former permanently in 2015.
Despite producing quality performances on Merseyside sporadically under Martinez, he was eventually frozen out once the Spanish manager was sacked and replaced by Ronald Koeman.
"You can see with Gerard that it's still not there for 90 minutes," Koeman stated after the season-opening draw with Tottenham in 2016
"It's all about the work-rate of the player.".
Koeman's issue with Deulofeu's consistency failed to evaporate with the winger eventually shunted on loan to AC Milan in January 2017 after being told he wasn't in the first-team picture at Goodison Park.
It was at the San Siro that Deulofeu first showed signs he could perform week in, week out, and live up to the hype that had been circling for nearly a decade.
His four goals and three assists in 17 Serie A was the first period of sustained, impressive football in his career and helped him earn a call-up for Spain's friendly against France - in what would be his first senior appearance since making his debut in 2014 against Bolivia, as a 20-year-old.
In a 23-minute cameo, Deulofeu tore apart the Les Bleus, assisting David Silva's opener as soon as he came on to the pitch and scoring the clinching second goal in a 2-0 victory.
His coming-of-age at club and international level caught the eye of Barcelona, who decided to exercise their buy-back option to bring the attacker back to the Nou Camp.
But the shadow of Messi was once again too big for Deulofeu to overcome and he was sent on loan to Watford in January 2018 - with the move being made permanent in the summer despite a fractured foot keeping him out for two months.
With the injury affecting him until October, it took time for Deulofeu to break into the Hornets first team and show the consistent form that was evident in Milan.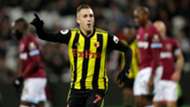 His nine goals and five assists in 27 appearances have helped Watford to respectable mid-table position on the Premier League table - and now he has put his match-winning ability on display with the extraordinary FA Cup semi-final performance.
This is the kind of form makes big European clubs stand up and notice, with Deulofeu admitting he has ambitions away from the English club.
"Watford has a certain profile but for now it's not a top club," Deulofeu told Reuters in March.
"We're eighth in the table, fighting to finish seventh and qualify for Europe, but I cannot close the door to other teams.
"I'm focused on Watford, but, of course, my objective is to play for a top team, that's normal, just like any other professional."
For Deulofeu to realise his objective, he needs to continue his emergence from Messi's shadow and produce top-level performances on a more consistent basis.
The fact he wasn't a starter in Watford's biggest game of the season speaks volumes for where he is at as a player, but his impact on the match shows where he can get to.
Only he can break the cycle of showing talent that other footballers can only dream of, but not playing to his full potential.