Raúl Jiménez
WATCH: Jimenez pays tribute to WWE superstar with mask celebration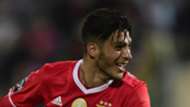 Raul Jimenez scored the first goal as Benfica lifted the Portuguese title, chipping the ball over Vitoria goalkeeper Joao Miguel to put his team on the road to a 2-1 victory.
While his goal helped Benfica to a league-cup double, it's his celebration that earned rave reviews - and a yellow card.
Pulisic and Dempsey headline U.S. roster
After putting the ball in the back of the net, the Mexican forward reached into his shorts and pulled out a lucha libre mask in the same style worn by Mexican WWE superstar Sin Cara. 
"Thanks, friend," the wrestler wrote on Twitter. "Viva Mexico!"
.@Raul_Jimenez9 goool !!! Gracias amigo!  #VivaMexico @SLBenfica @WWE @wweespanol @wwe_es pic.twitter.com/031y7Yee0L

— Sin Cara (@SinCaraWWE) May 28, 2017
Jimenez now will travel to join up with the Mexico national team ahead of June's World Cup qualification matches against Honduras and the United States while Sin Cara could appear on Tuesday's WWE Smackdown show.