FA Cup
WATCH: Davies on the emotions that comes with a cup final and Dollah's contribution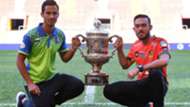 Ahead of the 2017 FA Cup final between Pahang and Kedah, Matthew Davies spoke to Goal about the butterflies in his stomach before the big kick-off.
The Pahang captain also praised the success of Dollah Salleh in guiding the team back into the right path after the turmoil of 2016.
Watch the full interview below.