Abdul Waris
Waris hits out at Avram Grant over Ghana's Afcon snub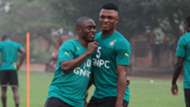 Ghana striker Abdul Majeed Waris is hugely disappointed not to have made the Black Stars squad for the 2017 Africa Cup of Nations in Gabon.
After making the provisional team for a pre-tournament camping in the United Arab Emirates, the Lorient striker was without doubts the biggest casualty as then coach Avram Grant named his final squad.
The snub led to a public outcry back home, as the 25-year-old was arguably the country's most-inform striker in Europe at the time.
"I was hugely disappointed in the decision," Waris told Ghanasoccernet.
"If he knew he would drop me, it would have been better if he did not take me to Dubai before dropping me.
"I was supposed to go on holidays but I dropped it and joined the team. 
"Nobody explained anything to me after I was dropped and felt disrespected. It was very disappointing.
"But I had to grow from it. I was happy I scored twice for my team upon my return and everyone knew I wasn't dropped because of non performance."
Ghana eventually suffered a semi-final elimination at the Afcon, losing to Cameroon.
Waris, meanwhile, is back to the national team after being recalled for 2019 Africa Cup of Nations qualifier against Ethiopia last week.
The striker made his international debut against Chile in 2012 and has netted four times in over 20 appearances.