Videos
Airtel 10X: Fans attempt pronouncing Wojciech Szczęsny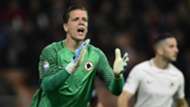 In continuation of Airtel 10x series, Goal asks fans to pronounce names of their football stars.
One of the names football fans have difficulties saying is that of Juventus' Wojciech Szczęsny.
Despite spending eight seasons with Arsenal where he won two FA Cup titles, fans still find it very difficult to say his name.
WATCH VIDEO BELOW