Victor Wanyama
Victor Wanyama remains upbeat of Tottenham return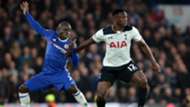 Victor Wanyama has remained positive of a quick return to action despite his slow recovery from a knee injury.
Wanyama has been nursing a knee injury sustained during the start of the English Premier League that has kept him out of action for close to two months.
Wanyama posted a message on social media hinting of a possible return to action with Tottenham soon and remained upbeat despite missing the mid-October target date.
Wanyama played a key role for Tottenham in his first season at the North London club since signing from Southampton.
Totteham have had to do without a number of their key players among them defender Danny Rose, who has been out for the past eight months.