Tottenham Hotspur v Bayern München
Vertonghen: Tottenham's 7-2 defeat by Bayern is embarrassing, we've let everyone down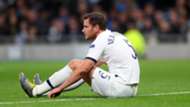 Jan Vertonghen says Tottenham's players will have sleepless nights after their "embarrassing" 7-2 home defeat to Bayern Munich.
Spurs took a 12th-minute lead through Heung-Min Son in Tuesday's Champions League group match but Bayern went on to score with seven of their 10 shots on target as ex-Arsenal winger Serge Gnabry netted four times in the second half on his return to north London.
It is the first time Tottenham have ever conceded seven goals in a home match in any major competition.
Asked what the mood among the players was like afterwards, Tottenham defender Vertonghen replied: "Bad, heads down. Everyone's ashamed of this result. I think everyone will have a bad night's sleep, and probably a couple, about this.
"I feel extremely hurt - all negative words. It's embarrassing. It's a very bad result.
"I felt like they were extremely clinical. There's never an explanation for a score like this, but they punished us with every single mistake we made. We let the players and everyone at the club down with this result.
"It's good that the next game [at Brighton] is already in a couple of days. We have to get back together - and I feel like the group is together - to overcome this defeat. The next game on Saturday will be a good moment to get rid of, not 100 per cent, but a bit of this feeling."
Vertonghen's central defensive partner Toby Alderweireld admits the home dressing room was a difficult place to be after the match.
"[The manager] went straight to do media so we were just with the lads," he said. "We didn't say a lot. Everyone was quiet.
"We need some time to think about it. Of course it's some sort of feeling of embarrassment.
"I think every shot from them was a goal and that's difficult to process in the game. We got to 4-2 and tried to press them, and then of course there's space for them and they did very well at the end.
"The last couple of goals, we took a lot of risks. We brought attackers on and tried to force something but then we conceded a couple of goals.
"We have to be men and take responsibility and try to change this as quickly as possible."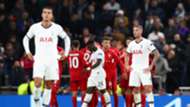 Tottenham began their Champions League campaign by throwing away a 2-0 lead away against Olympiacos, only taking a point away from Greece in the end. Now, after Tuesday's defeat, they lie bottom in Group B, two points behind Red Star Belgrade and five behind leaders Bayern.
"At this moment we have one more point than last season!" said captain Hugo Lloris. "The next two games against Red Star will become even more important - we cannot lose any more points.
"I think they (Bayern) showed respect to us because it's the stamp of the big club - when they have the chance, they kill you. This is what happened in the last 10 minutes.
"I don't think the level of both teams is far away like the score, but we need to accept they were much better than us.
"I feel really bad for the fans mainly because we gave up a little bit too easily and the score was even worse. It's a night that affects us a lot. Now it's about character, clearing the mind."
Tottenham's defeat was their fourth already this season in all competitions, including last week's loss to League Two side Colchester on penalties in the Carabao Cup.
"The first thing is to find the confidence back in a few games in a row, not just one game," said Lloris. "The key is togetherness. It was one of our strengths of the last few seasons and we need to get back on basics.
"It's a collective failure and we need to find a solution to find the consistency that was our strength in the last few years.
"Since the start of the season we've never played at the same intensity for 90 minutes. As you see we're used to playing in a way that demands a lot of energy and focus, and at this level the opponent punishes you when you start to lose easy balls close to the box.
"Today we feel bad for the badge, we feel bad for the fans, and now it's to show a reaction on Saturday. That game has become even more important for us."