Singapore
Unbeaten Valencia sets the standards high at JSSL International 7s tournament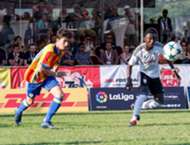 Valencia CF continued to impress on the second day of the JSSL International 7s and Professional Academy 7s. They are perched right on top of the standings.
The club from Spain and Australia-based Perth Glory are still unbeaten after the round-robin matches which took place at Padang.
Valencia, already sitting pretty on top of the table after the first day, continued their goal-scoring form and picked up wins against Fulham FC (2-0), Japan's Urawa Red Diamonds (2-1) and JSSL FC (3-0).
The only team which took points off the Spanish side were Perth Glory, as they managed a 1-1 draw. Valencia and Perth Glory are the only other teams to have remained unbeaten in the standings so far.
Crowd favourites Manchester United and Liverpool endured a torrid time under the scorching sun and could not keep up with the marauding Spaniards who have amassed 19 points from seven matches. Manchester United picked up a win against Bangkok United (1-0) and then managed draws against JSSL FC and Perth Glory (1-1).
Liverpool picked up wins against Bangkok United (3-0) and JSSL FC (1-0) and also managed a draw against Fulham (1-1).
The JSSL International 7s and Professional Academy 7s has seen a record participation of 350 teams from 15 nations for the 2018 edition.
The knockout stages will be held at the Padang on April 30 and will start at 3 PM local time.