Manchester City
Unstoppable Sterling just gets better and better as Man City stay in title control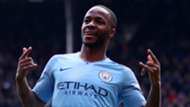 Manchester City have once again put the ball in Liverpool's court by picking up a victory against Crystal Palace that was for the most part routine, but also said a lot for their character.
For so long City were in control, playing the exact kind of game they knew they needed to come up with as they resumed their quest for the Premier League title. 
Against Spurs in midweek they compromised some of their principles, aiming for a tight game that was as much about restricting Mauricio Pochettino's men as getting the best out of Pep Guardiola's.
The Catalan wanted his players fresh and at their best at Selhurst Park, and they were. From the first whistle they set about the hosts, pinning them back with the relentless pressure and passing that we have become accustomed to over the Guardiola years.
Raheem Sterling missed an early sitter that made you wonder whether it would be one of those days where chances are blown and titles are decided, but a few minutes later he vanquished all of those doubts in an instant by racing onto Kevin De Bruyne's through ball and smashing the ball into the far top corner.
As with their recent league outings they had scored in the first 15 minutes, and as with those other fixtures they used that early goal as a foundation to keep things under their control.
And when Sterling tapped home Leroy Sane's cross not long after the hour mark, for his 21st goal of the season, it seemed the three points were in the bag, given City's utter dominance.
Then things threatened to get out of hand. Luke Milivojevic, usually lethal from the penalty spot, lined up a free kick on the edge of the City area and found the bottom corner.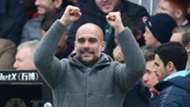 Cue a nervous finale. Guardiola knows all too well what can happen at old, historic grounds like this when the home team - and their fans - are up for the fight. City had avoided it for 80 minutes but all of a sudden their victory, one that had looked so assured, was in doubt.
But after a few brief moments of panic as Palace got the ball into the City box, the visitors got a hold of the game again, albeit by keeping the ball in the corner. Needs must.
If they showed their pragmatic side there then they showed their slick best soon afterwards. By pushing up the pitch Palace played into City's hands, and with the extra space afforded to him De Bruyne, one of the players rested against Spurs for this game, picked out Gabriel Jesus, who took his time to pick his spot and then duly found it, slotting in at the near post to put the result, finally, beyond any doubt.
After City lost in midweek Ilkay Gundogan questioned his own side's mentality, suggesting that the reaction to Sergio Aguero's missed penalty was not the kind you would expect of a big team.
But there could be no complaints about City's approach here, whether before the Palace goal or after it.
After the Spurs defeat Vincent Kompany insisted City would be back to their attacking best for the rest of the season, and that was in evidence on Sunday. 
They put in the right performance, and got the right result, exactly when they needed it.
If anybody at Anfield was keeping an eye on this game in the hope that City would slip up, they will be sorely disappointed.
City just keep going about their business, and they have ticked off another potentially tricky fixture standing between them and the title.
Over to Liverpool. Again.