Mohamed Salah
Unbelievable Salah lifting Liverpool like Luis Suarez did - Henderson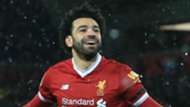 Mohamed Salah is making a similar impact at Liverpool as Luis Suarez did before joining Barcelona with his "unbelievable" displays, according to Jordan Henderson
Salah, who moved to Anfield from Roma ahead of this season, inspired the Reds to a 5-0 win over Watford on Saturday, scoring four times and setting up Roberto Firmino for the other goal.
The 25-year-old is now on 28 goals in 30 Premier League games for Jurgen Klopp's men, with a further nine assists to his name.
Henderson believes the Egypt star's decisiveness is akin to the exploits of Suarez, who scored 31 and set up another 12 as Liverpool came close to winning the league before their star man was lured to Camp Nou.
"They are both fantastic players in their own right and you can't compare them," Henderson said.
"They are different players. I know they score a lot of goals and both work hard off the ball but it is very difficult to make that comparison.
"Luis moved on to Barcelona and is doing fantastically well. He is a fantastic player who I was privileged to play with.
"But Mo this season has been unbelievable. Absolutely unbelievable. He is doing it every week, without fail."
The Egypt international has been decisive with goals and assists, but Henderson feels the quality of his performances makes everyone around him better, too, a feeling the midfielder remembers from Suarez's days.
"It's the confidence. You have someone like Mo who does the hardest part of the game, which is putting the ball in the back of the net," he added.
"Then, as a team, if we work as hard as we possibly can, Mo [is] going to finish it in the final third. We had that with Luis. You know when you are walking out there are so many goals out there for you."