KPL
Ulinzi Stars defender Geoffrey Kokoyo returns from five-month military training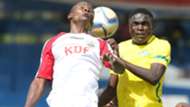 Geoffrey Kokoyo is back to training with Ulinzi Stars after five months of military training.
Kokoyo return will be a massive lift for the team but he will not be eligible to play until the second leg.
Kokoyo is set to be registered for the second half of the season.
Kokoyo, a former Kenyan Premier League Defender of the Year, says it has not been easy being out there.
"For someone who has been playing at the top for long, it was definitely never easy to be out for five months, though it is not the first time I have missed out for the same reason. I was prepared for the timeout both mentally and physically and as I get back into the side I want to get to the same level as the others," he said.
Kokoyo immediate concern should be to help the team bridge the five-point gap with KPL leader Gor Mahia and the defender's experience will be key in the team push for another title.
"At this stage last year we were doing very well and at the end of the first leg we were top of the log but we ended up finishing painfully. This year we are better prepared, we have done our homework and we want to ensure it doesn't happen again.
"I am happy to find the team doing well and showing all signs of challenging for the title. It is a good push but calls for a lot of sacrifice from us. We are ready for that."
Ulinzi Stars are third on the log with 25 points as they prepare to take on Wazito in the next game on Saturday.