Napoli v Liverpool
UEFA Champions League: What happened when Liverpool played Napoli last season?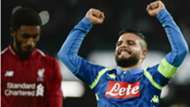 It wasn't a happy outing for Liverpool the last time they travelled to Naples to take on Napoli in a UEFA Champions League group stage fixture.
Lorenzo Insigne's 90th-minute goal forced Jurgen Klopp's side to return home empty-handed from Italy. Liverpool played one of their worst matches in Klopp's reign and they were rightly punished by Insigne's late strike.
The English giants had wasted several chances and Alisson Becker had to make many saves throughout the game. Dries Mertens had even saw his shot hit the crossbar once.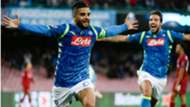 The Reds though took their revenge over Napoli in the second phase when Mohammed Salah's 34th-minute goal not only confirmed three points for the club but also sent them to the Round of 16 and in the process knocking out the Italian club from the competition.
The eventual champions had a very topsy-turvy journey in the group stage and it seemed at one point of time that they would not make it to the knock-out stages.
Their final group match was against Napoli at Anfield. Napoli were two points ahead of the Reds and a draw in Merseyside would have sent them to the Round of 16. But Salah appeared to be a saviour and made sure that wasn't the case.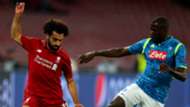 Liverpool and Napoli are yet again clubbed in the same group in the Champions League this season and the two sides have an opportunity to fight it out again. The champions begin their title on September 17 as they travel to Italy.
Naples has never been a happy hunting ground for the Reds. Before last season, they had travelled to the city in 2010 for Europa League clash. The match ended in a goalless draw.
Liverpool are on a roll this season, winning their first five matches in the Premier League are placed at the top of the table. The attacking trio of Sadio Mane, Mohammed Salah and Roberto Firmino are in a fiery form and have not spared a single opposition they have faced so far.
Will the Reds' juggernaut continue or will Carlo Ancelotti's men emerge victorious once again on their home turf?