UEFA Champions League
UEFA Champions League: Remembering Steven Gerrard's winner from 2004-05 for Liverpool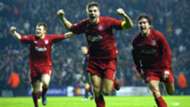 Liverpool fans are no strangers to emotional roller-coasters. They will for sure go through it when the Reds take on Napoli in a must-win match on Tuesday night.
That is exactly what Steven Gerrard's 86th-minute pile-driver through Olympiakos' defence and spirit did to all of those who watched the historic tie exactly 13 years ago today. It was that goal that sent Liverpool into the knock-out stages of the UEFA Champions League (UCL) in the 2004-05 season.
A blustery December night greeted the Reds, who needed to beat the Greek side by a two-goal margin or a 1-0 score-line to advance to the knockouts. The game didn't start on the right note for the home favourites, however, with Rivaldo smattering a free-kick into Chris Kirkland's goal.
However, by the 80th minute of the game, two splendid goals by Florent Sinama-Pongolle and Neil Mellor had the Anfield faithful braced for a spectacular finish.
Capitalising on Mellor's cushioned header from inside the box, Gerrard realized there lay an opportunity to let a ripper fly and test Antonis Nikopolidis. Little did he expect the sumptuous finish that it'd become.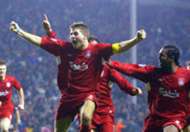 The legendary right foot did all the talking, as his raking drive on the half-volley swerved and swerved and swerved, past the diving Olympiakos custodian and smashed into the wet net, to all but seal Liverpool's spot in the continent's biggest football competition's knockout round.  
The tie would have bigger implications in football folklore. The famous Reds would eventually lay claim to the hallowed Champions League trophy in Istanbul, winning the tie in equally memorable fashion. Having gone 3-0 behind in the first half to arguably one of the greatest AC Milan sides in history, the 2006 finalists ensured a dramatic fightback, to even up the contest, before winning the tie on penalties, 3-2.
This footnote in the 18-time English champions' history would not have come true had Gerrard not taken the game by the scruff of the collar and expunged anxiety from all those concerned with Liverpool in that game. It remains a significant event that proud Reds look upon as laying a cornerstone for their fifth continental title win, while the essence of that smashing drive still remains embedded in the hearts of the fans. 
Liverpool fans will be hoping for a similar inspiration from the likes of Mohamed Salah and co. 
Here's how to watch the match LIVE from SouthEast Asia