Aide Iskandar
Two-of-a-kind: Aide and Mani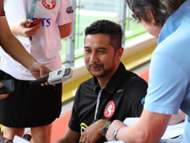 Attack wins you games, defence wins you championships. If that adage was ever in doubt just ask Aide Iskandar and his partner in crime, S.Subramani.
The duo is regarded as some of the defensive greats that Singapore has ever produced. It also helps that they were good friends off the pitch and share the same footballing philosophy.
The two central defenders made their debut for the national team in 1995. Back then, they were playing for Home United and Tiong Bahru, respectively, and very quickly, forged a formidable partnership with the Lions
But when Mani joined home in 1999, it was the start of what would be a solid partnership for club and country, as the pair would win two league titles and five Singapore Cups altogether.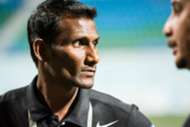 Furthermore they were part of the Singapore team that won the 2004 AFF Suzuki Cup, when Aide captained the side. One of the reasons why they had a successful partnership was due to the different qualities they had, which complemented each other.
Aide was an excellent reader of the game and was able to marshal the defence well while Mani was a tough-tackling marker who would max his lungs out each game.
In the 2004 AFF Suzuki Cup the defensive partnership of Aide and Mani was the bedrock on what that Singapore team was built on. Significantly they kept the likes of Myanmar, Indonesia and Laos at bay to help Singapore be crowned AFF Suzuki Cup champions for the second time.
Furthermore, that year saw Mani and Aide become part of Home United's historic semi-final run in the AFC Cup competition - the first time in history a local club had gone so far in Asia continental competition.
It will be hoped that the Lions can evoke the defensive spirit of Mani and Aide in the upcoming AFF Suzuki Cup because a strong defence will be needed when coming up against regional giants in Thailand, Indonesia and the Philippines. Like the age old saying goes 'attack wins you games, defence wins you championships.'