League Cup
Two-goal hero Ayew reacts to dramatic comeback win over Tottenham Hotspur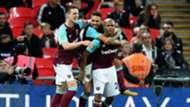 West Ham United ace Andre Ayew has shed light on their amazing comeback triumph over Tottenham Hotspur in the English League Cup on Wednesday.
Two-nil down at half-time, the Ghanaian hit two goals in the spate of five minutes to draw the Hammers level, before Angelo Ogbonna scored the winner in the 70th minute.
Moussa Sissoko and Dele Alli gave the Lilywhites a first-half lead in the round of 16 fixture at Wembley Stadium.
"I think the game started really tough as Tottenham took the lead after five minutes, but we stayed confident and we weren't down," Man of the Match Ayew told Sky Sports after the game.
"The coach [Slaven Bilic] had the words at half-time, so I want to congratulate the whole team for what they have done today.
"It's a massive win, but we need to stay calm because we've got a massive game on Saturday."
Ayew tapped in his first goal from close range on 55 minutes before side-footing his second on the hour mark.
"We need to enjoy this win tonight, because it's a derby and it's Tottenham and because it's always a great victory, but prepare for Saturday because it's very, very important," the Black Star continued.
"We knew if we scored a goal early in the second half, we would have a chance, but we also knew Tottenham have a big squad and great players and a great manager.
"Tonight, we have shown we have character and we have quality, but we need to relax and work hard, because Saturday is a big one.
"Saturday is very important so we're going to prepare, have a good rest, then work hard and hopefully we can collect the three points."
Relegated to this bench in recent games, Ayew will hope that his latest exploit be rewarded with a start in Saturday's Premier League clash with Crystal Palace.