Premier League
Toure in line for new contract as Man City plan special Zabaleta send-off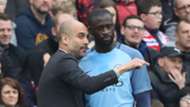 Manchester City sources say there is a "strong chance" Yaya Toure will be offered a new contract in the coming weeks.
Toure's current deal expires at the end of the season and, unlike six of his team-mates who are in the same position, a final decision on his future is yet to be made.
Zabaleta is City's first PL legend
City confirmed on Saturday night that Pablo Zabaleta will leave the club this summer, and a special send-off has been planned for Tuesday night's home game against West Brom.
Toure could yet leave the Etihad Stadium at the end of the season, meaning he would be denied the type of farewell Zabaleta will receive, but unlike the Argentine he is keen to stay and negotiations are far from completion.
Zabaleta, 32, informed the club of his intention to leave some weeks ago. He believes, at this stage of his career and with a young family, that he can no longer keep up with the demands of competing in four competitions.
Toure has admitted publicly that he would like a new contract and senior City sources have now admitted for the first time that there is a distinct possibility that he will be offered one.
The club are conscious, however, that they will need to find a way to honour the Ivorian should an agreement not be reached and Tuesday's game proves to be his last at the Etihad.
Those plans could include inviting the long-serving midfielder back to the club next season for a pre-match presentation.
Jesus can't full Aguero void just yet
City have planned a special celebration of Zabaleta's nine-year spell with the club, including a montage featuring contributions from prominent fans as well as team-mates past and present.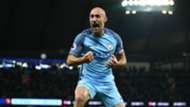 It is also believed Zabaleta, rather than manager Pep Guardiola, will address fans via the public address system after the full-time whistle.
Guardiola did pay tribute to Zabaleta following City's 2-1 win over Leicester on Saturday, hailing the Argentine's role in turning the Blues into one of England's biggest clubs.
"Pablo is a legend," the Catalan said. "Today I spoke to Khaldoon in the morning, came here and before I arrived Pablo was already here. Pablo is a real legend in what he has done in the club, he has helped with his team-mates at the club to make a step forward, to try to compete to qualify for the Champions League, sometimes to win the Premier League, to be in Europe three or four times in a row, after they had gone 30 years and never been in Europe. That's why Pablo Zabaleta, in these kind of things, is so, so important."
He added: "Pablo teaches the new generation, the people who are coming in, what it means to be at the club, what it means to be in the Premier League, what many, many things mean. He's so important.
"I learned that at Barcelona and Bayern Munich, where the base of the squad were the people who grew up from the academy, in Catalunya at Barcelona and in Germany, a lot of those players were there, and that is so, so important."