Australia
Tomi Juric out to secure Socceroos starting spot and potential club move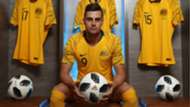 He was on the verge of missing the World Cup just a week ago, but Tomi Juric is fit and firing again, desperate to secure himself a starting spot for the Socceroos in Russia. 
Juric has been Australia's go to striker for a few years now, however a knee injury to the Swiss-based attacker threw a spanner in the works leading up to the World Cup with Jamie Maclaren recalled to the squad.
In a recent friendly against Czech Republic, Andrew Nabbout led the line scoring his first Socceroos goal before Maclaren replaced him after an hour.
Having utilised an underwater treadmill in his bid to overcome injury, Juric believes he's ready to play again and is eager to start Australia's final friendly against Hungary. 
"I wouldn't mind (starting against Hungary) to be honest, it'd be nice to get back onto the park a bit longer and get some minutes under the belt before the tournament," Juric said.
"Obviously it's a confidence thing as well to get it out of the way and get the legs going.
"I felt quite sharp in the last training. I hit the back of the net a couple of times and it's always a good feeling.
"I've just got to go with the flow. I give everything, everything I can on the park...I can only control what I do on the pitch."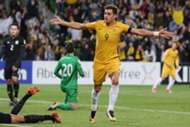 Juric has labeled his knee complaint as annoying rather than anything serious at this stage, with the 26-year-old desperate to help steer Australia to some upsets in Russia.
Currently playing for Luzern in Switzerland, the Australian striker is hoping some strong performances at the World Cup can propel him to a bigger club in Europe.
"Anything can happen with a World Cup," he told the Sydney Morning Herald. 
"Obviously I'd like to continue my footballing career in better pastures, achieve goals and things I've set out for myself to do.
"A good club in a better league. Just better than where I'm at and a step ahead of where I am at the moment, wherever that will be."