Johor Darul Ta'zim
TMJ slams fair-weather fans, expresses gratitude towards loyal JDT supporters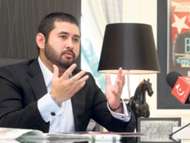 ---
BY         NIK AFIQ        Follow on Twitter
---
The owner of Johor Darul Ta'zim (JDT), Tunku Ismail Sultan Ibrahim has slammed fans of the club who only give their support when the club are winning.
In a social media posting, Tunku Ismail, who is also known as TMJ by fans, stated that the club don't need such glory hunters, and he explained the new approaches and targets set by JDT for the current season.
TMJ claimed that new and unofficial pages only know how to make unreasonable and unrealistic demands instead of loyally supporting the club, while at the same time congratulating the true loyal fans that have been supporting the club since 2013.
In the post on JDT's official Facebook page, TMJ said: "I would like to congratulate and thank the Boys of Straits and the loyal fans that have been standing by us since 2013 compared to the few fans and unofficial pages that they have just shown up after we became champions."
TMJ continued his criticism in the statement, saying that these type of fans only hide behind excuses as compared to the true fans.
"Those fans seem to only know how to make unreasonable and unrealistic demands. They only know how give negative remarks without realising that the key to our success is unity."
"These fans more often hide behind excuses and they do not give us any constructive criticisms but instead pointing finger and playing the blame game."
TMJ added that the club's target for this year is to finish top four in the league and reach the quarter finals of the FA Cup, and he also added that with using local strikers, they have achieved better than what they expected.
"This year we took (a) different approach and set different targets. We added six to seven new and young players who had to adapt to our system."
"This year, the target is to finish top four in the league and QF for the FA Cup. We have achieved our target for the FA Cup."
He also praised Benjamin Mora for doing well with the current squad, and compared him with Mario Gomez, who had strikers such as Lucho Figueroa and Jorgey Diaz at his disposal last season.
"We are playing with a local striker as opposed to our competitors who depend heavily on their foreign strikers."
"A number of fans claim that Mario did a better job. But they have forgotten the players that Mario had. Even he admitted that he does not think he would have been able to achieve anything with our current squad."
TMJ ended the statement saying that the 'new comer' fans should take over the club and manage the club, and he also showed his gratitude by saying thank you to JDT's loyal fans.
JDT are currently third in the MSL this season after overcoming a stuttering start, and are also set to face Pahang in the quarter-finals of the FA Cup.