WTF
'Three hamburgers a week, but no fries' - Usain Bolt receives irresistible offer to play professionally!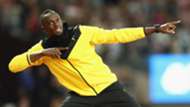 It seems like the offers are already flying in for aspiring professional footballer Usain Bolt, as Beira-Mar's amazing contract proposal demonstrates! 
The legendary Jamaican sprinter hung up his track shoes for good following this year's Athletics World Championships in London, where injury ruined his swansong. 
He is now setting his sights on making it in football, with his agent assuring he has received a variety of offers to go pro. 
It remains to be seen, however, if the bid made by Beira-Mar, currently in the fourth-tier Aveiro first division in Portugal and briefly the home of Eusebio in the twilight of the striker's career, turns the idol's head. 
"Usain Bolt, you'll keep the yellow, we'll keep you a champion," the club proclaimed on Facebook as they rolled out the red carpet. 
"Beira Mar, a club where dreams come true, announce that we are ready to make the dream of one of the best athletes of all time come true!
"Usain Bolt, come and make your dream come true, come and play for Beira Mar." 
The club are nevertheless aware of their financial limitations, and stop short of promising Bolt the riches he enjoyed as the world's fastest man. 
Among the perks offered in lieu of salary are "the honour of putting on our shirt, the world's best fans," and three steak sandwiches or hamburgers a week, depending on the time of year. 
Beira Mar do point out that the offer does not include French fries, as "times are hard for everybody," but do throw in the generous (literal) sweetener of 12 'ovos molos', a meringue-type confectionary, a day — "provided nobody eats them all first in the dressing room," they helpfully add. 
With that unbeatable package, plus the offer of a free boat ride around the city, a Portuguese cellphone and all the beer he can drink in the stadium bar, there is no way Bolt can turn them down!