CAF Confederation Cup
'Things didn't go as planned' - Manishimwe laments Rayon Sports thumping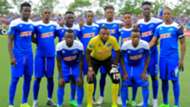 Rayon Sports crashed of this year's Caf Confederation Cup after a 5-1 aggregate loss to Enyimba and Djabel Manishimwe confessed that 'things didn't go as planned' for them in Aba.
The Rwanda topflight side were making their fourth appearance in the competition and reached the quarter-final for the first time in their history in all caf club events since 2002.
Following a botched semi-final bid on Sunday, the midfielder insists that they will learn from their exit and also assures supporters that they will surpass their quarter-final best next time.
"I don't know what went wrong with us against Enyimba and I am still surprised," Djabel told Goal.
"It was unfortunate, things didn't go as planned, we as Rayon Sports players wanted to make another progress and another history but this is football. We've learned a lot from this competition and will try our best next time.
"Normally, Enyimba did well but of course we made some mistakes which happens in football, don't forget that they have some level of experience more than us. So congrats to them. Generally, we tried our best and we gave our best to our beloved Gikundiro.
"Hopefully, when we get the opportunity to come back to the competition, we do more and more.
Our supporters know that we're the fighters, we love our team and we love them. We tried to make them proud but this is an end of our strength but we are going home and get ready for the National League. We will make them happier. We are Gukundiro."
As it stands, Rayon Sports will not feature in Caf competition next year after they finished third in the 2017/18 Rwandan National Soccer League behind runners-up AS Kigali and champions APR.