KPL
Thika United retires jersey number 22 in respect to the fallen Dennis Lewa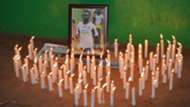 Thika United will no longer have jersey number 22 on the pitch in respect to the late Dennis Lewa.
The former player was among those, who passed on in a grisly road accident that claimed the lives of 58 people at Kericho, Rift Valley. A post on the official portal of the club has confirmed that the club will no longer print #22 on any jersey from now henceforth.
"Thika United FC have rested jersey #22 officially. This has been done as a sign of honor to the late Denis Lewa Mwangala, who shall be laid to rest on Saturday, October 20, 2018, in Kaloleni, Kilifi County.
"The official Thika United home Jersey shall be handed over to Mwangala's family, as a tribute to Lewa. RIP Yori."
Reports have it that the player was on his way to Kakamega Homeboyz to sign for the club when he met his death.