Lopetegui
'They stole 50 goals from my son!' - Lopetegui's father blames Ronaldo sale for Real Madrid slump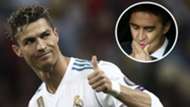 The father of now ex-Real Madrid manager Julen Lopetegui, Jose Antonio, insists that his son struggled at Real Madrid because the club decided to sell Cristiano Ronaldo to Juventus during the summer transfer window.
Lopetegui was installed as Los Blancos manager back in June, filling the void left by club legend Zinedine Zidane, who resigned after securing a third successive Champions League title in May.
The 52-year-old coach started well enough, but a 1-0 defeat against Alaves on October 6 stalled the team's momentum, and they have embarked on a poor run of form ever since.
Madrid have managed to win just one of their last seven games in all competitions - a narrow 2-1 victory against Viktoria Plzen in the Champions League - and a 5-1 defeat at the hands of Barcelona on Sunday saw them slip seven points behind their rivals in La Liga.
Lopetegui was sacked on Monday despite Madrid reporting on their official website that he took training on the same day, with former Chelse boss Antonio Conte lined up to replace him at Santiago Bernabeu.
Jose Antonio defended his son in an interview with El Mundo, claiming that the sale of Ronaldo and the failure to adequately replace him left Lopetegui with a mountain to climb in the opening months of the 2018-19 campaign.
"Cristiano Ronaldo was good," he began. "Was he cocky? We all have defects, but it turns out he scored 50 goals a season.
"He is missing. You are missing a prominent goalscorer. They haven't bought one, not a single one.
"There was talk of Neymar and others, but no one came. They have stolen 50 goals from my son!"
Loepetgui Sr went on to stress the fact that although the sale of Ronaldo is not an excuse for Madrid's recent failures, it is a significant factor which others should consider when judging his son's performance at the helm.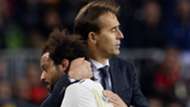 "He had to settle with what he had and don't get me wrong, he is delighted with the players he had," he added.
"He usually says: 'I have great people, they give everything they've got.' He doesn't blame the players.
"But when there is no material, there isn't. There was but he left."
After their thrashing at the Camp Nou, Madrid have now conceded 14 goals and scored the same amount this season, which is the first time the club has failed to secure a positive goal difference at this stage of the season since 1947 .
Next up for Los Blancos is a Copa Del Rey showdown against Melilla on Wednesday, before a home clash against Real Valladolid on Saturday.