United States
The Top 10 USA-Mexico matches since 2000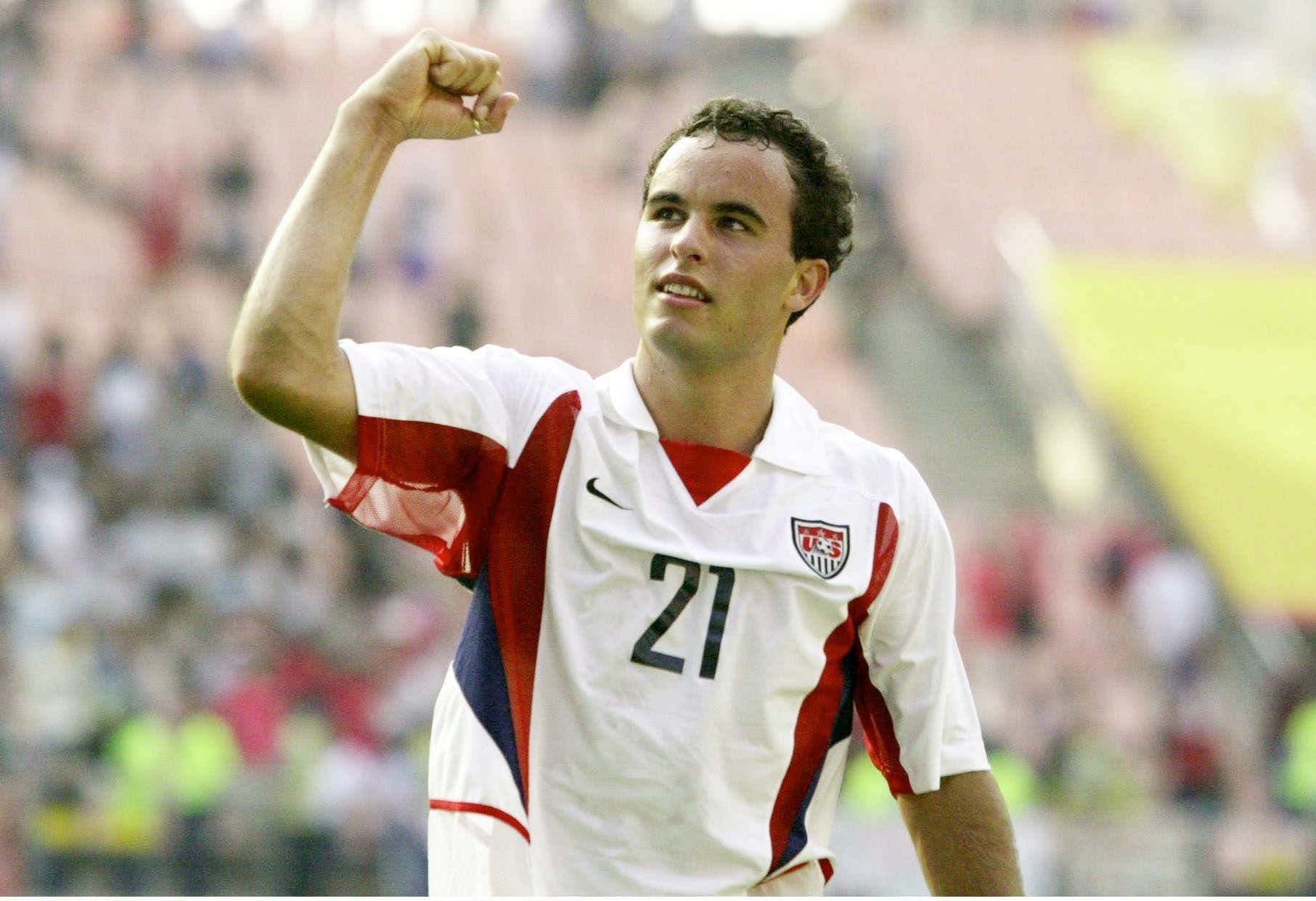 When I made my way to the Giants Stadium in the summer of 2000 to cover my first USA-Mexico soccer game I had no idea it would be the beginning of a tradition that would deliver some of the biggest highlights of my career.
That particular installment of the series was pretty forgettable, but the 18 USA-Mexico matches I have been to since have more than made up for it.
Arena and Osorio renew old rivalry
Sunday's World Cup qualifier will mark my 20th time covering these CONCACAF rivals and, truth be told, it doesn't feel like 17 years have gone by. In the almost two decades since that first match, we have seen the rivalry play out at the World Cup, in unforgettable Gold Cup finals and several memorable World Cup qualifiers that ended 2-0.
Though I've been to 16 of the past 17 USA-Mexico matches, I have missed some good ones, including the original "Dos a Cero" in 2001 and the lone U.S. win at Estadio Azteca.
In honor of my 20th time covering USA-Mexico, here are what I consider to be the top 10 matches in the rivalry I was lucky enough to cover over the past 17 years:
---
2007 FRIENDLY (USA 2-0)
---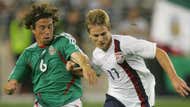 You might wonder how a friendly cracks the list, but this one was memorable because Mexico was heavily favored against an MLS-heavy squad. The pro-Mexico crowd in Arizona was in for a surprise though as Jimmy Conrad and Eddie Johnson scored goals in another result in the long line of 2-0 USA victories.
---
2005 WORLD CUP QUALIFYING (MEXICO 2-1)
---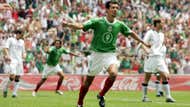 My first trip to Estadio Azteca was a memorable one, as a hot Easter Sunday helped wear down the U.S. on a day when El Tri walked away deserving winners. Jared Borgetti was the star, though an Eddie Lewis goal helped provide some consolation for the Americans.
---
2009 WORLD CUP QUALIFYING (MEXICO 2-1)
---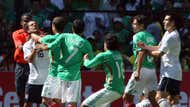 What U.S. fan will ever forget the scene of Charlie Davies scoring the opening goal and stunning the packed house at Estadio Azteca? This looked like it might be the time the Americans would win their first qualifier in Mexico City, but El Tri had other plans. They equalized just 10 minutes after Davies scored, and eventually came back to beat the U.S. with a goal by Miguel Sabah in the 82nd minute.
---
2013 WORLD CUP QUALIFYING (USA 2-0)
---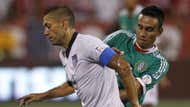 Another of the Columbus 2-0 victories for the U.S. saw Landon Donovan and Eddie Johnson score the goals, and Clint Dempsey — some think intentionally — missing a late penalty kick that kept the score Dos a Cero. The night was made even sweeter by the news that the Americans clinched their place in the 2014 World Cup.
---
2005 WORLD CUP QUALIFYING (USA 2-0)
---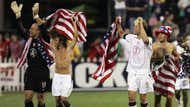 Both the USA and Mexico were well on their way to the World Cup as they ran away with the Hex that cycle, but this victory was for bragging rights in the region and the U.S. delivered with one of its most comprehensive victories in the series. Steve Ralston and DaMarcus Beasley scored the goals and Kasey Keller preserved the shutout.
---
2009 WORLD CUP QUALIFYING (USA 2-0)
---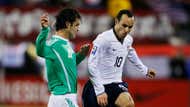 On a stormy February night in Columbus, a 21-year-old Michael Bradley enjoyed a breakout performance, scoring both goals in a 2-0 victory that was as convincing as the U.S. has ever had against El Tri. Mexico struggled for much of the night, but the U.S. also had issues finding the net before Bradley stepped up with goals near the end of the first half and second half.
---
2011 CONCACAF GOLD CUP FINAL (MEXICO 4-2)
---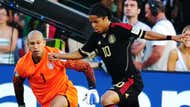 The U.S. may have watched a 2-0 lead disappear, and Giovani dos Santos work his magic against the Americans yet again, but it's hard to argue against this not being one of the most dramatic and best matches in U.S. history. The first 20 minutes were some of the best soccer we have ever seen an American team play, but an injury to Steve Cherundolo left the U.S. defense vulnerable and El Tri eventually capitalized, rattling off four unanswered goals, including Dos Santos' unforgettable dribble past Tim Howard.
¡Ustedes lo eligieron!

El mejor gol @ussoccer es de @OficialGio.

(Una joya)#ElFutbolEsNuestro pic.twitter.com/7cLIf2Tu7N

— Selección Nacional (@miseleccionmx) November 9, 2016
---
2015 CONCACAF CUP (MEXICO 3-2)
---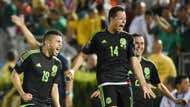 Easily one of the best matches in the series, one that required a dream game-winner from Paul Aguilar to settle it. The packed house at the Rose Bowl saw a great back-and-forth affair. Mexico had the better chances before a late U.S. rally. It was another stadium that was heavily pro-Mexico, but the U.S. supporters put on a strong showing to give this match one of the best atmospheres we have seen in the series.
---
2007 CONCACAF GOLD CUP FINAL (USA 2-1)
---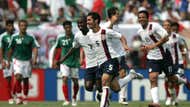 The summer of 2007 brought us Benny Feilhaber's wonder-goal, which settled a contentious and even battle that was truly up for grabs right up until Feilhaber unleashed his winner from distance. The Soldier Field crowd was heavily pro-Mexico, but Feilhaber silenced El Tri fans with his stunning finish.
---
2002 WORLD CUP ROUND OF 16 (USA 2-0)
---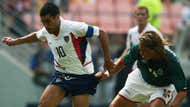 I can still remember getting off the train in Jeonju, South Korea, thinking, "How many Mexican fans would really make this long a trip?" In that summer of 2002 I wasn't yet familiar with how many Mexicans make it their mission to go to the World Cup ever four years. I figured it out quickly though as I heard the El Tri fans sing loudly and proudly on that day.
Nothing will ever top this World Cup showdown, which had everything from a first-half tactical substitution to a late Rafa Marquez red card. In between, we saw Bruce Arena steer the Americans to a confident victory led by captain Claudio Reyna and a 20-year-old Landon Donovan, who sealed the victory with a header finish to send the Americans to the 2002 World Cup quarterfinals. As for El Tri fans, they did belt out one heck of a rendition of "Cielito Lindo," accepting that, on that day, the Americans were the better team.