Adrian Mierzejewski
The story behind Adrian Mierzejewski's goal celebration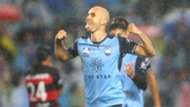 We may not have seen in it on the weekend as Sydney FC were handed a shock 2-1 loss by a ten-man Newcastle Jets, but Adrian Mierzejewski's goal celebration has become a common sight this A-League season.
With 12 goals to his name, the Polish winger's flexing biceps have become an iconic part of the Sky Blues surge to another Premiers Plate.
Nicknamed Adrian 'Muscles' Mierzejewski by Fox Sports commentator Brenton Speed, the 31-year-old's choice of celebration has a rather interesting origin.
"Maybe three or four years ago in Saudi Arabia in the pre-season cup I started doing some push ups and working out my body and the players start to make some jokes about me," Mierzejewski told the Daily Football Show.
"(My celebration) was my answer that I'm really strong and after when I score a goal I did it, so I am happy and I score again so it was my routine.
"Now before every game my son he asks me to make my goal celebration - even when we play together at home.
"He tries to make the same goal celebration.
"It's nothing special… but I'm happy that the fans now in Australia can recognise this goal celebration and I believe maybe that one day I see this goal celebration in the FIFA game."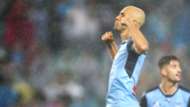 Another thing Mierzejewski will be desperately hoping to see is his name in the Polish squad for this year's World Cup in Russia.
With 41 national caps to his name, the Sydney FC star's hopes of a recall are relatively slim considering his last appearance came in 2013 and Poland now boast an even stronger talent pool.
However, Mierzejewski isn't giving in just yet but concedes he may need other players to be struck down first to achieve his lifelong dream of playing at a World Cup.
"There has been conversation in Poland between some coaches and journalists talking about me," he said.
"Now I think I need a voodoo doll, to put some injuries for the other players.
"We have really good first XI for the national team.
"I still believe… I'm really happy and satisfied with my numbers this season."
So he should be too considering he has the equal-second most goals in the league and sits fourth for assists with seven.
The Sky Blues have certainly reaped the rewards of Mierzejewski's good form having lost just one A-League game when he has played.