Getafe
The 'Spanish Jamie Vardy' - Non-league journeyman Jaime Mata leading Getafe to brink of Champions League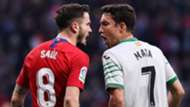 Just 10 years after stripping naked in protest at his then fourth-division Spanish side, Galactico Pegaso, failing to pay their players, Jaime Mata found himself taking his shirt off for a very different reason earlier this year.
After scoring against Barcelona in January, the Getafe striker was given the rare of honour of exchanging shirts with Lionel Messi – whom he incidentally had the nerve to nutmeg during the 2-1 loss.  
"It was an honour to get Messi's jersey," Mata told AS. "It's an honour to play against the best player in the world and it's a good thing to be able to share the field with him."
For Mata, the moment was the culmination of over a decade toughing it out in the lower leagues of Spain, with the 30-year-old only now just beginning to shine in the limelight of La Liga. 
Having held his own against Messi and walked away with a priceless memento, Mata had finally shown the world, not to mention Luis Enrique, just what he can offer on the football pitch – regardless of his advancing age. 
It's been quite the journey for Mata, whose professional career began with Pegaso's reserves in 2007 only for the club to go under three years later.
From there, Mata found himself in Rayo Vallecano's B team before subsequent loan spells at UD Socuellamos and CD Mostoles.
Despite a turbulent two years bouncing between the three clubs, one constant remained – Mata's ability to find the back of the net.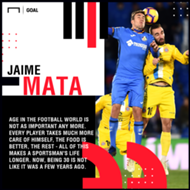 He struck 43 times during that period of flux before finding more solid footing at third-division outfit Lleida Esportiu in 2012.
Since making a small but important step up the rung of the Spanish footballing ladder, Mata has never looked back.
He scored 33 goals across his two seasons with The Blues, earning himself a move to Segunda Division outfit Girona. 
After a solid two-year stint that saw him strike 21 times but suffer consecutive seasons of play-off heartbreak, Mata made the move to fellow Segunda side Real Valladolid in 2016. 
Beginning his time with the club in less than spectacular fashion, netting six times in his first season, the striker caught fire in the 2017-18 campaign, bagging a league-high 35 goals.
Despite finishing the season in fifth, Valladolid sealed promotion to La Liga via the play-offs, with Mata scoring the final goal as they triumphed over CD Numancia.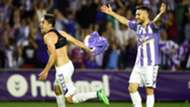 Despite playing such a pivotal role in Valladolid's promotion push, Mata opted to move to Getafe at the season's end, signing a three-year deal and sealing his long-term future in La Liga. 
Making his top-flight debut two months shy of his 30th birthday, the Spanish striker hasn't looked out of place in the first division as he looks to make up for lost time. 
"It's an unusual case to reach the highest level at my age, and with my career going through all the leagues and reaching La Liga later than the rest," Mata said.
"I'm adapting to the rhythm and my team-mates, and I'm happy." 
Mata has scored 13 goals across 29 Liga games to date, chipping in with a further six assists, as Getafe look to seal an unlikely place in the Champions League next season.
The Deep Blues currently sit fifth in the Primera Division table, just one point shy of Sevilla in fourth, who hold the remaining Champions League qualifying spot.  
With European competition now firmly in his sights, it's clear Mata's rise up the football ranks isn't about to stop anytime soon. 
Indeed, Mata made international headlines in March after being called up to the Spain squad for the first time.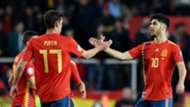 The shock decision forced Manchester United midfielder Juan Mata to clarify on Twitter that he hadn't, in fact, been recalled and that instead a new Mata was ready to represent La Roja.
Both players are 30, but as one struggles to stop the curtains from closing on his international career, the other has only just found himself thrust into the spotlight.
"Not in the best of my dreams could I have imagined that I would be in the national team," Mata said. "I am very glad to have come so far." 
Though handed a single minute in his debut against Norway, Mata has shown time and again that he's capable of excelling at a higher level.
If Mata's story does sound familiar, it's because Leicester City striker Jamie Vardy has walked a similar path. 
After toughing it out in the lower leagues of Spain and England respectively, the duo have, through sheer force of will and skill, scaled the heights of professional football. 
At a time when some players are contemplating a big-money move to Asia or even hanging up the boots, both Mata and Vardy have only just reached the summit of their careers and are showing no intention of dropping back down any time soon.