World Cup
The sad story of how Denmark legend Michael Laudrup's son was forced into early retirement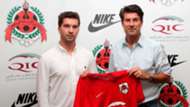 Either give up professional football, or you'll never be able to have a kickaround with your children - this was the brutal choice Andreas Laudrup faced at just 24 years old.
Laudrup – the son of Danish football legend Michael – was born in Barcelona and first trained at Real Madrid alongside the likes of Marcos Alonso and Nacho before going on to play in the Champions League after winning the Superliga with Nordsjaelland.
But his playing career was cut short due to his incurable chronic rheumatoid arthritis which left him in constant pain and with an agonising decision to make over his future.
Capped 14 times at Under-21 level by Denmark, he could have been playing at this summer's World Cup in Russia at the peak of his career. Instead, the 27-year-old, who is the father of a 16-month old boy, is now channelling his passion for football into his work as an agent.
Reflecting on the agony he endured during his playing days, which reached its height during a loan spell at St Etienne, Laudrup revealed the advice he received from a doctor treating him.
"Oh, I felt pain every day. It was in my knees, my ankles, my hip, my elbow, my shoulder. Sometimes it felt like someone had put a knife into you," Laudrup told Goal. "My ligaments could stay swollen up, so sometimes I couldn't use my leg or bend it.
"So, it was quite a scare for me at the start because I didn't understand the injuries. After a couple of years, I got a brilliant doctor who could tell me about it in a way that I could understand it. That was very important for me.
"My parents and family were very supportive but they did not understand what it was because I didn't know yet. They were trying to support me as much as possible which was good. The main thing was that I was supported by everyone, which helped.
"I quit when I was at Aarhus [in 2015]. I had tried several times to come back to playing. I went to see the doctor and I spoke a lot about the situation. I asked him, if he was in my shoes, what would he do?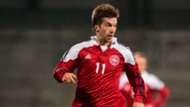 "He told me that if I wanted to play football with my children in the garden at 30 or 40, then I should quit and find something else other than football. That was the main thing that got me thinking about ending my career.
"The idea was that there was a life for me after football, so that was the main thing that made me think about doing something else. It was very difficult for me but at the same time I tried for two years to come back from it and play football. In those two years, I got close but never close enough.
"I always got the negative sides of playing football. I felt that I was so close but not close enough. In the end, when I made the decision, it was a relief to stop the struggle to always come back from injury to play.
"I think that my injuries were one of the reasons why I didn't make it at St Etienne. They also had amazing players at the time, a great team and their best players were playing in my position. It was a combination of many injuries and the level of the other players was higher than me."
Other people may have found that hardship too much to bear but Laudrup has quickly moved on. He now manages footballers, including former Chelsea goalkeeper Matej Delac, in a partnership with Mads Staberg, whose expertise in law complements his own in the technical side of the game.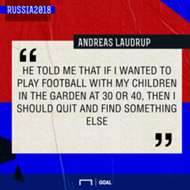 Laudrup hails from an illustrious footballing family, with his grandfather Finn, his dad Michael and his uncle Brian all playing for Denmark. During his own challenge to carve out a successful career, Laudrup chose to play with his first name Andreas on the back of his shirt during his time at Madrid.
When his father left Getafe to take over as Spartak Moscow coach in 2008, Laudrup had the option of following him to Russia, as well as offers from Dutch teams, but he chose to go to Denmark to join Nordsjaelland.
He enjoyed great success with the club and he remains thankful that he was able to have a career which, despite being brief, brought him major honours.
"When I think about my career, I think about all the things that I won," Laudrup added. "Especially considering I got this illness when I was 21 or 22, I won all the things that I won in only four years of being healthy in professional football. That's very satisfying for me. That's the main thing that I remember my career for.
"When I signed, FC Nordsjaelland were a mid-table-to-bottom club but after a couple of seasons we won the cup in Denmark. A year later, we won the cup again, so that was really amazing. Then, of course, we won the championship. It was close to the level of Leicester's achievement [of winning the Premier League in 2016], maybe just a bit less.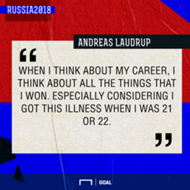 "We were only a small team in Denmark, young players with a small budget. We had still managed to get together a very talented squad and we qualified for the Champions League. It was a very difficult level but we were so happy to get there."
Laudrup also recalls his time with Madrid, the battle for his signature and his reliance on Chelsea defender Marcos Alonso to translate training instructions at Castilla into English.
He said: "I played with Marcos Alonso in Real Madrid. We always rode together to training sessions. The thing I remember from Real Madrid was that I came to the club without speaking Spanish.
"It was hard to understand the instructions in training and in the games without being able to understand the language but thankfully a couple of team-mates like Marcos could speak English. They could translate a little bit for me. I imagine it was a little bit annoying for them to always translate but I am very happy that they did that and it was the first time that I tried to be at a competitive squad.
"All the players wanted to play. It was a big club and you felt that. Every time we played away games, there was always a lot of people who were watching the games. We travelled to Mexico to play in big tournaments. That was quite new to me to be at such a big club with that much focus on the club and team.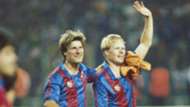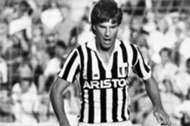 "I felt that I belonged there. For me, it was very interesting to see that I could take my level from Denmark and still do it in Spain. I did perform so it was very satisfying for me. I was always playing with the best players so it was a big thing for me.
"The story of my time at Madrid was that I was going to go to Getafe but it was so far away from where we lived that we went to Atletico Madrid. I wanted to try and play for them but people from Real Madrid heard about it and they asked me for a trial. From the very first day, they wanted me to travel with them to a tournament.
"It was quite fun to think that I had Getafe, Atleti and Real Madrid options. That was quite fun that they saw that I had the talent to play for their clubs."