Barcelona
The perfect match: The night Messi's Barcelona conquered Manchester United & Rome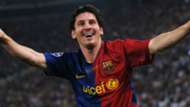 Nobody ever used to talk about trebles in Barcelona. Despite an illustrious history, the Catalan club claimed their first European Cup in 1992 and their maiden Champions League crown in 2006. They were not used to being the very best on a regular basis.
But in the summer of 2008, everything changed. Pep Guardiola took over as coach and immediately took the brave decision to dispense with Ronaldinho, believing the brilliant Brazilian would no longer be able to hit the heights of years gone by.
He was undoubtedly correct, with Ronaldinho having been a fading force at Camp Nou for some time. However, as one door closed, another opened, and Lionel Messi inherited the Brazilian's number 10 shirt.
The season started in uncertainty, especially as Barca went down to lowly Numancia on the opening day of La Liga and then drew 1-1 at home to Racing Santander in the second round of the competition. But behind the scenes, there was already a sense that Guardiola was building something special.
Pep's mentor and former coach, Johan Cruyff, wrote in El Pais that Barca had played "their best game in many years" against Racing, while Andres Iniesta surprised his boss by knocking on his office door and telling him: "We believe in you 100 per cent. Keep doing what you're doing."
Guardiola was stunned and also touched that Iniesta, the most mild-mannered member of his entire squad, should take such a step. The conclusion? Pep did continue with what he believed – and Barca never looked back.
He's been here before...

Lionel Messi returns to Rome - the scene of Barcelona's 2008/09 treble triumph. pic.twitter.com/SvEN9dfp4J

— Goal (@goal) April 10, 2018
A 6-1 win away to Sporting Gijon kicked off a 21-match unbeaten run in La Liga and with Messi at the forefront, the Blaugrana stormed to the title, winning the Copa del Rey and then La Liga in the same week. Cruyff and Iniesta had been right all along.
Iniesta's late leveller at Stamford Bridge against Chelsea also sent Barca through to the final of the Champions League and in Rome, Guardiola's side would have the chance to complete the treble in his very first season in charge.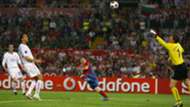 By then, Messi had hit 37 goals from the right wing, already 20 more than his highest mark for a season – 17 in 2006-07. Under Pep, the Argentine was playing closer to the area and benefitted from a super supply line in the shape of a three-man midfield made up of Xavi, Iniesta and Sergio Busquets.
In the final, they were up against Manchester United and Cristiano Ronaldo, but it was their moment. Messi's moment. After Sir Alex Ferguson's side started stronger, Barca began to settle and they were ahead through Samuel Eto'o inside 10 minutes.
Rarely troubled after that by the Premier League side, the Blaugrana finished off the match when 20 minutes later, almost in slow motion, Xavi picked out Messi with a floated pass and the Argentine – who was all alone – rose majestically to head home the second goal as Edwin van ser Sar watched in horror.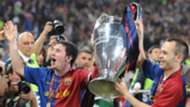 "When Xavi's pass was in the air, I imagined myself scoring the goal and thanks to God, it went in," Messi said years later. "It was an important goal for me in every sense: for the team, for the manner in which we were playing that final, and for me. It's one of my favourite goals."
It was also the goal that marked Messi's arrival, announcing his brilliance to the world as he finished with season with 38 goals and a treble triumph for Barca, with the Ballon d'Or to follow and then a spectacular sextet in the months ahead.
"History has restored the prestige that we deserve," then Barca president Joan Laporta beamed after the game. And Guardiola simply said: "A year ago I was playing for promotion with Barca B. I am very lucky to have been chosen as coach, and also to have these players."
Messi in particular. Without Leo, Guardiola often admitted that the Blaugrana would not have achieved all that they did in his four fantastic seasons in charge. And as Barca return to the scene of that treble triumph on Tuesday night, this time for a Champions League quarter-final second leg against Roma, little has changed.