CONMEBOL Libertadores
The paunchy Pulga: Messi's namesake Luis Rodriguez is starring in Tucuman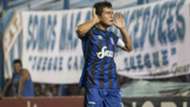 Luis 'Pulguita' Rodriguez, Atletico Tucuman's irrepressible homespun hero, may not enjoy the same recognition worldwide as the man with whom he shares a nickname, Lionel Messi. He most definitely does not enjoy the same astronomical salary as the Barcelona man, who is once again enjoying universal plaudits following his wizardry to deliver Clasico victory on Sunday.
But then again, Messi did not cap his triumph at the weekend with a heartfelt handshake from the referee and a cheeky request for clothing.
Real cannot wait until Messi retires
Rodriguez achieved that distinction back in 2014, after scoring an incredible strike against Independiente from the halfway line in a Nacional B game. At the final whistle, match official Alejandro Castro shook his hand and even asked the playmaker for his boots as a souvenir.
"Football boots are expensive; that's why I didn't give them to him," Pulguita, now 32 but at the top of his game, laughed as he explained why he refused the awe-struck ref's request.
Rodriguez is certainly not your typical footballer. He stands at just 5'5", and waddles around the pitch carrying a frame that suggests a diet heavy on the local delicacies of empanada meat pies, barbecued beef and red wine. The star continues to live in his tiny hometown of Simoca, 50 kilometres from Atletico's home of San Miguel de Tucuman, commuting every day to training.
"It is the place where I grew up, where everything I do goes unnoticed," he told El Grafico. "To my neighbours I am just another Simoqueno, not a footballer. Nobody asks for photos or autographs and I move around with complete anonymity."
All hail Messi, King of the Clasico!
That certainly would not be possible down the road in San Miguel, where Luis is well on the way to becoming Atletico's all-time standard-bearer. Two goals in an enthralling 4-3 defeat to Racing Club at the weekend – an impudent penalty rolled into the corner of the net and, more impressively, a header drilled past Agustin Orion – took him to 105 at Parque Independencia, just 14 shy of historic record-holder Juan Francisco Castro.
The star has clinched three promotions during his 11 years at the club, and in 2016 helped the Decano to qualify for the Copa Libertadores for the first time in their history. But it could have been so different for the barrel-chested magician had he not been persuaded to continue in football as a teenager.
21' PT ¡Gol de #AtleticoTucuman! De penal lo hizo Luis Rodríguez #Racing 1-1 #AtleticoTucuman #TelefeFutbol pic.twitter.com/I9nZswKOBE

— Telefe (@telefe) 22 de abril de 2017
30' ST ¡Gol de #AtleticoTucuman! Otra vez lo hizo Luis Rodríguez #Racing 4-3 #AtleticoTucuman #TelefeFutbol pic.twitter.com/cOnS0DXTAG

— Telefe (@telefe) 22 de abril de 2017
"At 17, almost 18 I was ready to give it all up," he admits. "I was tricked by this crazy guy I had for an agent, who told me I was going to play in Romania. There was supposedly a contract all sorted and when I went to collect my wages I don't know what happened. Nobody could tell me.
"I ended up stranded in a train station without knowing the language, penniless, without any food. I got home however I could and told my mother I was quitting; that I didn't want to play anymore."
Salvation came in the form of brother Walter, who had shined with Racing de Cordoba as a pro before injury forced him to retire. Rodriguez enjoyed a short spell with the club before being released and dropped down into the regional Tucuman leagues.
'Ramos tackle on Messi was criminal'
"'How much do you want to earn?' the president asked me," he recalls, referring to the negotiations that brought him to UTA. "'I don't know, I just want to play again,' I said." The star eventually accepted the modest sum of 400 pesos (US$250) a month, and a scintillating year in the lower leagues caught the eye of Atletico, who swooped for the 22-year-old in 2007. Aside from a six-month loan at Newell's back in 2010, he has been there ever since.
The proudest moment of Rodriguez's career came back in 2010. Then-Argentina coach Diego Maradona, perhaps seeing a kindred spirit in the squat trickster, handed him his first and only Albiceleste appearance in a victory for a local XI against Ghana.
"I can say that was the most wonderful thing I have experienced and even better. It was with the greatest of all time, who even gave me a team talk," he beamed.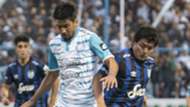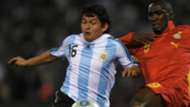 Almost painfully modest, getting Rodriguez to talk about his achievements is as rare as spotting consummate family man Messi rolling out of a nightclub at six in the morning. He prefers to let his football do the talking.
Pulguita's signature move when straining the fibres of the Atletico shirt is holding up the ball on the edge of the area, keeping defenders at bay with his ample derriere before playing in one of his team-mates. The little man also has an electric turn of pace that leaves markers reeling and a piledriver right foot capable of scoring goals from anywhere.
Atletico will hope that magic does not fail him on Tuesday. After an exhilarating run to the Libertadores group stage, which included a breakneck dash from Quito airport to play El Nacional after the team's plane was cancelled, the Decano have fallen back to earth with two defeats and a draw. Their latest clash against Bolivia's Jorge Wilstermann is a must-win should they hope to avoid elimination.
Barcelona's Pulga has already proved this week that anything is possible. Now Tucuman's own answer to Messi is charged with inspiring his colleagues to an equally vital victory – and there is no reason to think that the veteran cannot come up with the goods and keep up his amazing story a while longer.