NPFL
The NPFL is improving, says MFM's Onuwa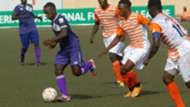 Mountain of Fire and Miracles FC's Chukwuka Onuwa hails the improvement in the Nigeria Professional Football League following their 2-1 victory over Enugu Rangers on Friday.
Onuwa stated his delight at the fact that all teams can compete whether or not they are at 'home or away'.
"I'm really happy with the level of football now because there is nothing like home or away," Onuwa told Goal.
"You can go anywhere and play. Nigeria League is improving now.''
Although the midfielder praised the fight showed by the Flying Antelopes, he was 'very happy' that Fidelis Ilechukwu's men won the enthralling encounter.
"I'm very happy and I do not know how to express myself because this is a game we really worked hard for,'' he continued.
"For the fact that we played against the number one team in Nigeria, the defending champions and went two goals up before they scored one, I'm very happy.
"Perfect! Both sides were excellent but I'm very happy God gave us the victory.''
Sikiru Olatunbosun opened the scoring at the Agege Stadium with a screamer and Onuwa admitted he was gobsmacked at the quality of the execution of the goal.
"Actually I was amazed. I never expected such thing from him. I'm happy for him. I started the move and I'm very glad it went in. The goal was wonderful.''