Lionel Messi
The greatest show on Earth? Messi announces Cirque du Soleil partnership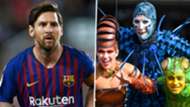 Lionel Messi has confirmed a partnership with Cirque du Soleil for the creation of a brand-new show about the footballer's life which will debut in 2019.
The Canadian entertainment company, which puts on extravagant shows, has lined up a future theme and turned to the football world for inspiration. 
Past themes taken from popular culture have included the likes of Michael Jackson, Elvis and The Beatles, but now Cirque have turned to one of the magicians of the sporting world for inspiration. 
Messi initially teased the partnership on Tuesday with an Instagram post of him juggling what appears to be a clown nose while wearing a Cirque du Soleil shirt. 
Messi then followed up the initial Instagram post with a second more detailed announcement, confirming that he was teaming up with the entertainment giant. 
The post read: "I am honoured to announce my partnership with @CirqueduSoleil for the creation of a brand-new show in 2019 based on my life and the passion for football."
The move from Cirque du Soleil shows just what a global icon the 31-year-old has become as he continues to transcend the sporting world. 
Messi's potential teaming with the show could earn him a small fortune, not that he necessarily needs the income!
The Barcelona superstar earns a staggering £500,000 (€565,000) a week. Only PSG winger, and Messi's former team-mate, Neymar earns more in European football.
Messi is also partnered with a number of brands, including Adidas, Pepsi and Turkish Airlines; he is reported to have earned $28 million (£23m) for the year 2016 in total.
And any link with Cirque du Soleil is sure to generate plenty of buzz on social media, as Messi has 89 million likes on Facebook, and 97 million followers on Instagram.
Messi is reported to have a net worth of between £200m (€229m/$263m) and £230m (€263m/$302m), personally. 
With a show being built around him, those numbers are sure to rise!
Though based out of Montreal and popular in Las Vegas, Cirque holds shows around the globe in locations ranging from Tokyo to Macau to New York City.