Goal United
The Big Interview: Goal speaks to Guinness World Records holder Khris Njokwana
South Africa Chief Editor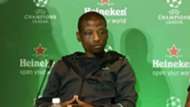 Goal South Africa chief editor Ernest Makhaya had an opportunity to interview Guinness World Records holder and freestyle footballer Khris Njokwana at the Heineken screening party for the Uefa Champions League final in Nasrec this past weekend. 
Njokwana exclusive spoke to Goal about his success in breaking former Arsenal and England national team player Theo Walcott's Guinness World Records for the highest altitude football dropped and controlled. 
Walcott, who is currently on the books of Premier League side Everton, did it from 34 metres while Njkokwana bettered the record at a staggering 37.4 metres high in Johannesburg earlier this month.  
The Cape Town-born star had three chances to set the new record, but he still wants to know how many chances Walcott got for his previous record. 
Njokwana was challenged to break the record by Heineken SA, and he accepted it and delivered the goods. 
Here's Njokwana's full interview with Goal... 
Goal: Khris, congratulations on breaking Theo Walcott's record and for claiming the Guinness World Records. How does it feel holding a record that was previously held by a football player while you're not a football player?  
Njokwana: First of all, thanks so much my brother. I still can't believe the love and the support that I'm getting here at home, in Africa and around the world. To beat... not really to beat, but to better a record that was done by Theo Walcott; a player that I have always looked up to and admired playing in the EPL, I mean it's a great feat. Not to sound big-headed, but I don't think a lot of South African PSL players would have broken the record. Maybe they could, but given three chances were there was a lot of pressure is a great feat and it's really humbling, and I'm happy to be number one in the world. 
Goal: Was the Guiness World Records certificate already there even before you attempted breaking the record?  
Njokwana: The adjudicator from Guinness World Record flew down from the UK on the day, and he bought the certificate. I think he also had the belief that I would do it. I think that's what they do with everyone that tries the Guinness World Record - they bring it just in case. Maybe had I not done the record then I was not going to see the certificate (laughs).
Goal: How much belief did you have in yourself in the build up to the big day? 
Njokwana: There was a lot of belief, three months before... there was a lot of belief that I would do it, but I musn't lie man, maybe the night before, I didn't not sleep. I had a rehearsal at 8am, and I saw that I was going to sleep at eight the next day just to relax my mind, but I ended up sleeping at 6am and woke up at 7am - only an hour. So, there was belief, but on the day, it was a scary experience actually.
Goal: What was going through your mind when the ball descended for the third time after failing the first two attempts?
Njokwana: I was shaking, I was scared yet again at the same I was confident because it was the last chance to make a mark. I was scared in a sense that I didn't want to disappoint myself first of all - very importantly. I didn't want to disappoint Heineken the brand, and I didn't want to disappoint the people that have so much belief in me. The other part of it is that although I failed the first two attempts, I was confident that I would do it. I just prayed, and I prayed so hard and here we are today. 
Goal: What about the pressure, both internally and externally? 
Njokwana: If you see in the video, it clearly shows. I was shaking the whole time. It's very hard to explain the feeling because you have to be in that moment in order to explain it. It was an outside body experience. I don't think it's a feeling I will ever feel again in my life because it was dramatic. Had I dropped the ball then I would have failed everyone, and when I got the ball, it was congratulations all over. So, I was very happy.
Goal: You said in your interview afterwards that it's not easy for anyone to control a soccer ball. Tell us more.
Njokwana: Yeah, actually I would love to know how many chances Theo got to do the 34 metres, but it's really difficult when the ball comes down, it's different velocity because I trained in Cape Town, and I come to Johannesburg... different altitude. The pressure is pumped up a little differently. So, every time it comes down, it leaves bruises on your body. It comes down like a brick. So, it's not very easy, but I want to challenge other guys to also try and break the record maybe it's going be more interesting.
Goal: What's next for Khris Njokwana? 
Njokwana: I want to break more records. I want to put South Africa more on the map. I want to encourage more kids in whatever niche sport they're doing. My sport, freestyle football, is not really recognised here in South Africa. So, that's why when I got the ball, I delivered a freestyle and not just do the five touches, just to grow the sport more because I knew I had the opportunity to showcase it to the world. That's what I want to do. I just want to inspire the little kids, I want to inspire South Africans. We're living in interesting times. I want to do great things for Africa.  
Goal: Are we going to see more records being broken by you in the near future?  
Njokwana: Definitely, the next thing I want to do, I want to keep up the ball a million times... without dropping the ball. So, that's going to be very interesting. 
Goal: Thanks very much for your time Khris and best of luck. 
Njokwana: Thank you so much.