Arsenal
'Thank you for absolutely nothing' - Nigeria fans react as Arsenal sack Emery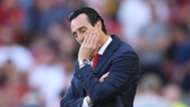 Nigeria fans are apparently excited by Arsenal's decision to sack Unai Emery as the club's manager on Friday.
After their 2-1 home defeat to Eintracht Frankfurt on Thursday, the Gunners released a statement that they had parted ways with Emery and his coaching crew, 18 months after he took over at the helm.
The club's decision came as a relief for Nigerians who saw it as the right step after their seven-game winless streak across all competitions, with assistant coach Freddie Ljungberg tasked to oversee the first-team in an interim role.
Ozil entering Arsenal changing room after hearing Unai Emery has been Sacked like 💃💃🕺 pic.twitter.com/ThrXukNHKL

— Dat Osas Cruz (@theOsasCruz) November 29, 2019
Who did this to unai Emery😂 pic.twitter.com/wrn8MMUKZN

— #hashtag (@hashtagklassic) November 29, 2019
Tottenham sacked Mauricio Pochettino even when he got them Champions league finals last season!

Arsenal just sacked Unai Emery for lack of competency!

Chelsea and Man U once sacked Jose Mourinho!

But Nigerians compensates failures with 2nd terms.

— 📌Professor Bolanlè Esq.🗨 (@BolanleCole) November 29, 2019
Unai Emery sacked!!!

Hats off Arsenal 🙌🏼🙌🏼.

Sacking Unai Emery on Black Friday to get discount off his payout and a new manager pic.twitter.com/8tOdmZ044e

— Nigga Daddy 🚀 (@tunji96) November 29, 2019
Emery sacked

Arsenal fans: pic.twitter.com/wWFG3uiobZ

— CHISOM (@_PLICE) November 29, 2019
Unai Emery has been Sacked!

What a good ebening to be an Arsenal fan.. pic.twitter.com/JO2EBxNZPt

— OMOTAYO Of Lagos 🇳🇬 (@Tee_Classiquem1) November 29, 2019
Dear Unai Emery
Thank you for absolutely nothing, you wont be missed!

Signed
Arsenal fans Worldwide. pic.twitter.com/ZsEQ8A68Di

— OMOTAYO Of Lagos 🇳🇬 (@Tee_Classiquem1) November 29, 2019
Arsenal fired Unai Emery on the day Fireboy dropped his album....

On some Gbas Gbos level😀😀 pic.twitter.com/P4U8j9NmTM

— Borrowed boyfriend (@theonlymubbie) November 29, 2019
Thank you Emery. The evil you have done is enough.

— Runtown (@iRuntown) November 29, 2019
Arsenal fans after hearing about Unai Emery sack pic.twitter.com/yTg36Sg15g

— Barloh (@Jizzy_jay423) November 29, 2019
Better late than... I'm back to Arsenal #COYG

— Taiye Taiwo (@tayo_taiwo) November 29, 2019
My Father My father

The Same way you did it, that Arsenal sacked Unai Emery.

Father Lord, please do it in a big way for Valverde, for the sake of Barca faithfuls pic.twitter.com/0a5vyF77CS

— Call me MYKEL (@Hez_mykel) November 29, 2019
UNAi Emery: you know what to do?

Ozil: No I don't

Emery: Me neither. Just tell Aubameyang I said Good Ebening pic.twitter.com/frd4I4liz8

— I Cum In Peace💦 (@maxxyfire) November 29, 2019
Me waiting for Emery sack letter...so we can begin the parte after parte pic.twitter.com/p3BxHNJ8wt

— Usman Lade (@UsmanLade) November 29, 2019
Unia emery didn't do as we expected but left a legend.

It is not easy to leave behind a legacy. We will forever say Good Ebening now wow pic.twitter.com/BLc4JVu4xZ

— KING Morakinyo (@morakcares) November 29, 2019
BREAKING: Live scenes from Arsenal's first training session under Freddie Ljunberg.

Reports suggesting Özil, Torreira and Pépé were responsible for the dancing. #afc #Emery #COYG #EmeryOut pic.twitter.com/gmoLqebPT3

— 🐐 (@AFCUMD1) November 29, 2019