South Africa U20
Thabo Senong: Amajita's big picture coach
Zarina Bahdur and Khatija Bahdur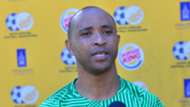 Coach Thabo Senong took a break from his sport management studies with NMU/FIFA/CIES Executive Programme to speak with Goal in Port Elizabeth about Amajita's upcoming match against Malawi with a place at the U20 AFCON at stake.
The AFCON is the route to the U20 World Cup and qualification for that is the ultimate goal.
Senong is the type of coach who has set both short and long-term goals and is trying to implement his action plan to achieve this. Since becoming coach of Amajita, Senong and his technical staff has tried rebranding Amajita as a footprint in South African football and eventually in Africa.
While he wants the team to excel in Junior tournaments, Senong is well aware of the fact that the team is a key component in the development and long-term success of South African football. He hopes that his scouting network can unearth all the talented players in the country and afford them the opportunity to improve.
"My passion still was to make sure that we gather all the promising talented players around the country, especially for our youth teams", he said to Goal.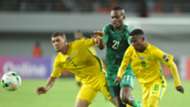 But talent alone is not enough. Senong has been criticised in the past for overlooking big name players.
Senong gave Goal his reasoning for this, "We looked at character in our scouting, we looked at humility personality. Then we would look at the technical skills because we knew that we have to compete with [the] best nations around the continent and for you to beat them you have to dig deeper. You need character, you need work ethic, then you need your talent which is secondary."
Thus far, Senong and his team's approach to finding players for the junior teams has paid off. His team qualified for the U20 World Cup in 2017 after not having qualified for the previous three editions of the tournament. The team also won the Cosafa Cup in Zambia.
"It was an excellent year for us. In 2016 we only lost one game in December against Zambia in the cup final. Throughout, the boys have been getting progressions going abroad- Liam Jordan, Luther Singh and Thabo Cele. So, a lot of players have been getting recognition abroad.  Some have been even getting early promotions in our local league Wiseman Meyiwa, Grant Margeman, Kobamelo Kodisang."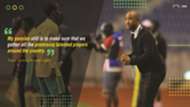 Senong is a coach that gives recognition where it is due but also does not believe in an easy ride. He is keen on studying the opposition and believes that Malawi will not be an easy ride.
"Teams are motivated and everyone wants to win, Malawi cannot be underestimated", says the respectful Senong. 
No matter what happens against Malawi, Senong's formula for success (teamwork, work ethic, constant learning and improvement and passion), is just what South African football needs to get back to where it belongs.