Premier League
Tetteh rejects suggestions to play in Ghana PL next season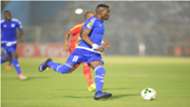 Former Bechem United striker Abednego Tetteh says he's not interested in joining a Ghanaian club ahead of the upcoming season.
The 24-year-old parted ways with Sudanese champions Al Hilal in July and although he agreed a one-year deal with Ethiopian giants Jimma Abba Jifar in November, he rescinded his decision two weeks later and has since been in Ghana.
He has been heavily linked with Asante Kotoko and Hearts of Oak but says he is not ready to play another season in Ghana.
"At the moment, I don't see myself playing for any club in Ghana," Tetteh told Footballmadeinghana. 
"My wish was to play in the Ghana Premier League next season some time back but as things stand now, I don't see it happening.
"I receive about 18 calls from different agents every day but I'm not in a rush to take any decision. The future will decide itself after some deliberations," he said.
He added: "I've received calls from some members of Asante Kotoko and Hearts of Oak but they are yet to put a contract on the table. Football is about terms and conditions. I've given them my terms and conditions and since then I haven't heard from them so I have to look elsewhere."
Tetteh was part of the Bechem squad that won the 2016 Ghana FA Cup trophy against Okwawu United.