Transfers
Terry calls for summer spending at Chelsea, but is yet to decide his future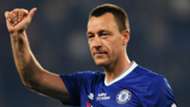 John Terry is on his way out of Premier League champions Chelsea, but is looking for them to bring in "bigger and better players".
The long-serving Blues skipper is leaving Stamford Bridge at the end of his contract.
He leaves with another title under his belt, the fifth of a remarkable career that has also delivered five FA Cup wins, three League Cups, the Europa League and a Champions League crown.
The challenge for those he leaves behind is to ensure that the club continues to challenge for major trophies, with Terry calling for Antonio Conte to be backed in the summer transfer market.
Courtois wants new Chelsea contract
He told reporters after seeing Chelsea denied a domestic double by Arsenal in the FA Cup final: "I think we can push on but, listen, clearly we have to keep improving year after year.
"You can't stand still in the transfer market. And that's not a [message] applying just to us, that's just everyone: everyone needs to keep raising the bar.
"Manchester City have already made one big signing in Bernardo Silva, so we need to act fast. I am sure the club will do the same and the manager has stressed that himself.
"Not playing Champions League football this year has been big for us but [being back in the fold] can be an attraction when it comes to signing bigger and better players.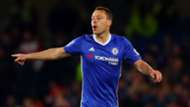 "This current squad is good enough to go and compete and I think we've shown that this year. But naturally there are going to be more games next year so the squad needs improving, and a bit more strength in depth.
"Seeing from a different perspective, from my point of view, it's been good to see certain people stand up to the plate – at half-time against Arsenal, and in other big games when we've been losing – and really show they can step into the shoes that I, Frank [Lampard], Didier [Drogba], Ashley [Cole] and Petr [Cech] have left. I am really confident in this group of players that they will kick on."
While excited about the future at Stamford Bridge, Terry admits he is yet to take a decision on his own.
'Conte's iron fist dealt with Hazard'
He has been linked with several Premier League clubs, along with those in MLS and CSL, while retirement has also been mooted for the 36-year-old.
"I've got options but nothing sorted or in stone," said Terry.
"Everyone keeps asking me and no-one believes me when I say that I've not got anything sorted."