CAF Confederation Cup
Tembo: SuperSport United expecting TP Mazembe backlash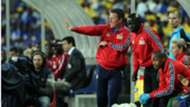 SuperSport United's assistant coach Kaitano Tembo is targeting a win over DR Congo giants TP Mazembe on Tuesday.
"I think we were intimidated and unsettled there in the first 20 minutes. But we settled down and realised they can be beaten and we forced them to make mistakes with the way we played our game," Tembo told IOL.
 "The crowd turned against them at some point and it favoured us as the away team. Sometimes that is the disadvantage of having such a huge following," Tembo said.
"I think that we will be a lot calmer and more settled this time around because the conditions are different when we play at home, obviously," Tembo added.
The Zimbabwean-born coach acknowledges Mazembe's potent individuals such as Tresor Mputu and captain Rainford Kalaba.
"We expect them to come at us. They like to have the ball and have good players (for their style), among them Tresor Mputu and their captain Rainford Kalaba.
"They are dangerous when it comes to one-on-one situations, and they, too, will be calmer as well because their huge following also puts them under pressure when they are at home.
"When they are playing away they are not under so much pressure," Tembo concluded.