Bayern München
Team India creates everlasting memories at the adidas FC Bayern Youth Cup World Finals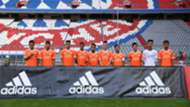 The adidas FC Bayern Youth Cup is a dream come true for any young footballer. This platform not only gives budding talent a world class competitive experience but has also been a springboard for young Indian footballers. Aniket Jadhav and Harpreet Singh who have been members of the Indian contingent at the adidas FC Bayern Youth Cup World Finals in 2014 and 2017 respectively have already made it into various age groups of the Indian national teams.
At the World Finals of the FC Bayern Youth Cup 2019 World Finals held at the Allianz Arena in Munich on Sunday, the Army Sports School boys from Bengaluru who were representing Team India had their shot at the international stage where they faced China, Thailand and FC Bayern Kids club in their group and Nigeria in the position play-off. The Indian team would finish the tournament sixth after losing in the penalties while registering one win over FC Bayern Kids Club.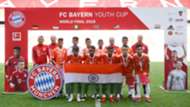 During their five-day trip to Munich, the squad had an action-packed itinerary specially curated to offer both learning opportunities and international exposure to all participants. From training sessions at the FC Bayern training grounds at Seiner Straße to exchanging notes from players from other countries and finally playing at the Allianz Arena - the opportunity and the experience was invaluable. The squad also had the chance to witness FC Bayern Munich's Bundesliga title decider against Eintracht Frankfurt.
Besides enthralling themselves with the oppotunity to meet and greet FC Bayern Munich goalkeeper Manuel Neuer, the team also set out on a Munich city freestyle challenge which was concluded by a freestyle event involving all the participating teams. Team India's Elangbam Tondon Meitei was named the "Freestyle King" and safe to say that the onlooking audience at Marienplatz - city center in Munich - were left mesmerized by a "footballer from India".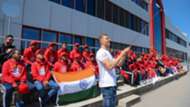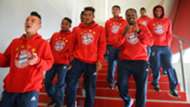 Sharing their experience in Munich, the Indian squad expressed in unison, "It was a surreal experience for us, to be representing India at such a coveted international platform. Any game of this magnitude is both a test of nerves and competence. We had been bracing ourselves to perform at our best at the World Finals. We could have done better in our match against China; however, winning or losing is a part of the game. What matters for us as a team is that it was indeed a proud moment to represent India on global platform.
"We are extremely grateful to adidas to offer us this opportunity. The adidas FC Bayern Youth Cup is like a World Cup for young footballers. To be rubbing shoulders with a pool of incredible international talent will definitely help us in pursuing our dreams of playing professional football in the years to come."
Commenting on the tournament, Sharad Singla, Brand Marketing Director, adidas India said, "At adidas, we believe through sport we have the power to change lives. And this platform is one example of that. It has been a springboard for young footballers to pursue their dreams and a start of a journey to becoming great footballers. We would constantly explore initiatives to nurture football in India. Our endeavour is to provide newer avenues to inspire the youth and enable them to experience the beautiful game."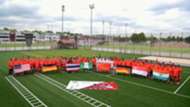 The World Final of the FC Bayern Munich Youth Cup 2019 was staged at the Allianz Arena in Munich and witnessed seven other competing teams from USA, Germany, Nigeria, Singapore, Thailand, China and FC Bayern Kids Club. Team USA bagged the title beating Germany's Bundkickgut side 1-0 while China finished third.