AFC Cup
Tampines 0 JDT 0: Southern Tigers fail to close gap on SLNA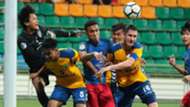 Even after the door was left open by Song Lam Nghe An earlier in the day after they were held to a scoreless draw against Persija Jakarta, JDT still could not take advantage to narrow the three points gap to the Group H leaders of the 2018 AFC Cup.
Raul Longhi made sweeping changes to the team as Adam Nor Azlin, Fazly Mazlan, Darren Lok, Nazmi Faiz, Amirulhadi Zainal and Aidil Zafuan all started for the away side in match day three of the group stage.
The numerous changes obviously affected the fluidity of the Malaysian Super League champions, and it remains to be seen whether the intention was to punish the first teamers for their recent run of form or was it done with an eye on the important league clash against title rivals Terengganu FC at the weekend.
JDT have have a chance in the first half to open the scoring when the referee awarded an indirect free kick inside of Tampines' penalty box. But Hazwan Bakri saw his shot hit Mustafic Fahrudin in the face. The Singapore international would later have to be substituted due to the injury caused by the impact of Hazwan's shot.
Meanwhile Farizal Marlias came up trumps at the other end as he did well to deny Ryutaro Megumi in the 11th minute. The custodian would have to be treated later in the half after he crashed onto his own post following his attempt to come and claim the ball from a corner kick.
Longhi would introduce the senior players in Safiq Rahim, Hariss Harun and Safawi Rasid in the second half. While that improved the general game play of the Malaysian side, they still did not manage to find their way past a resolute Tampines defence.
In the 62nd minute, Aidil had a very presentable chance from a Safiq free kick but Syazwan Buhari reacted quickly to deny the JDT centre back from point blank range.
Late on in the match, Tampines could have sneaked all three points when Afiq Yunos was free to flick a header towards goal from a corner kick routine but his namesake from the opposing team, Afiq Fazail was at the post to clear.
At the end, it was only a point for both sides which puts their qualification to the next stage under doubt at halfway point of the group stage. Tampines are stuck at the bottom of the table with only one point. JDT will probably look at the second half of the group stage where they have two matches at home as their chance to push up in the group.