NPFL
Sunshine Stars should forget winning in Bauchi, says Wikki Tourist's Nikyu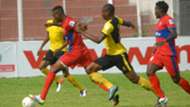 Wikki Tourist head coach Bala Nikyu has asked Sunshine Stars to banish the dreams of securing a good result at the Abubakar Tafawa Balewa stadium on Sunday.
Bearing in mind Sunshine Stars will be hoping for their third consecutive away win in Bauchi, the gaffer insists his side are not ready to drop a point at home for the remainder of the season.
"At this time of the season, no team will want to comprise with points at home," Nikyu told Goal.
"Whatever it takes, we are targeting the three points. We cannot gamble with our home games because no team below the 10th position is sure of safety this season.
"We know anything can happen in the last remaining games but the (Wikki Tourist) players are fully aware and know they must give their best to win games. 
"Since the beginning of the second round, I've told them we cannot afford to drop any point at home. And I'm glad they are getting it right and I don't have any problem because they are fully ready.
"It is not as if we are over confident on beating Sunshine. If any could remember that Kano Pillars were on five matches unbeaten and had high hopes coming to faces but we silenced them.
"Let them not get carried away by getting away wins coming to Bauchi because we will give them a shock of their lives. They should forget winning in Bauchi and look elsewhere for away win.
"They are surely coming to play just like ABS who played us very well but matter how much you play, if you lose at the end of 90 minutes their play will come to nothing.
"The over anxiety of coming to win a match is what we kill them."