Kaizer Chiefs
Steve Komphela prepared for Doctor Khumalo's info on Kaizer Chiefs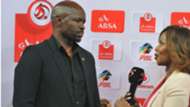 Kaizer Chiefs coach Steve Komphela has thoroughly prepared for the dose of inside information Doctor Khumalo will give Baroka FC to upset them on Saturday.
"He would obviously give a detailed report about how we play, but then even if people know who you are, you just have to be at your best," Komphela told Sowetan.
Khumalo joined Baroka as technical director last month ending his 31-year stay with the club both as a player and coach, with many ups and downs.
This weekend's showdown in Durban will surely be emotional for both him and the club, but the respect and love they have for each other remains the same.
"One of our own is there and I'm sure his influence [on Baroka] is also clear. We wish him well (and) his contribution at Chiefs has been immense.
"You don't throw your own by just virtue of them having moved on and we still have the same respect," Khumalo said.
Komphela concedes that Khumalo had to move on after establishing his own foundation as both a player and coach.
"I think Doctor had a lot of earnings here; most of his bread, most of his foundation was built by Chiefs and unfortunately he had to move on," Khumalo said.