Kaizer Chiefs
Steve Komphela: Is Siphiwe Tshabalala international material? Go ask Mexico!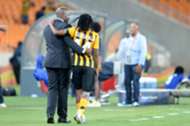 Kaizer Chiefs head coach Steve Komphela has backed Stuart Baxter's decision to recall Siphiwe Tshabalala to the Bafana Bafana setup for the 2018 Fifa World Cup qualifiers against Senegal. 
Shabba, 33, had not been called up to represent South Africa since 2014, and his latest call-up makes his the most experienced player in the current squad with almost 90 international caps. 
Komphela feels the majority of Bafana fans welcomed Shabba's return to the national team, simply because he has been outstanding at club level over the past few months. 
The former Bafana interim coach said Shabba's attributes as a player and personality are there for everyone to see, indirectly hitting back at those who have criticized the decision to bring the left-footed player back into the side.  
South Africa will host the Teranga Lions in the first leg on November 10, before traveling to Dakar for the return leg four days later. 
"Shabba... I'm not qualified to make a comment. One thing I can say is that he's worked with Stuart and Stuart is very smart," Komphela told the media.
"Stuart knows exactly what he wants and I'm sure if he didn't know what he was going to use Shabba for he wouldn't have called him up, but one thing that I'm going to say and also thank Stuart on behalf of Shabba, is when he said Shabba was one of the most influential players in the PSL," he said.
"If Stuart says that and coach Cavin Johnson says Shabba was a threat [on Saturday], and I don't normally go through reviews and check what is said about us professionals, [but] for whatever reasons I got interested in Shabba, there has been great positive feedback from South Africa in general, and that talks to the quality of the man," continued Komphela. 
"In terms of personality, character, is he national material? Yes! International material? Go ask Mexico!" added the 50-year-old mentor. 
Shabba scored the opening goal of the 2010 Fifa World Cup against Mexico on home soil; the goal which was nominated in the top 10 for the Puskas Award later that year.