Kaizer Chiefs
Steve Komphela 'can't run away' amid calls for him to resign as Kaizer Chiefs coach
South Africa Chief Editor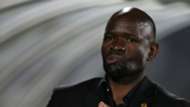 Kaizer Chiefs coach Steve Komphela has reiterated that he won't resign as head coach despite growing calls for him to leave the club before the end of the season. 
Komphela's contract is running out in June this year, but given how poor Amakhosi have been  this season, a section of fans feel the management should axe the coach if he doesn't do 'the right thing' before then. 
The 50-year-old mentor said one of his responsibilties is to protect his players and help stabilize things at the club before he can even think of running away.
With the Nedbank Cup semi-finals around the corner, the Chiefs management is likely to give Komphela one last chance to see if he can deliver silverware this season. 
The past two-and-a-half years haven't been too kind to Komphela and the entire Chiefs family as they have won less important trophies and failed dismally on the major ones.   
Komphela knows on the back of his mind that winning the Nedbank Cup may not be enough to save his job, but he's definitely willing to stay on and fight until the final day of his contract. 
"I can't run away and I'm not the kind of guy who runs away from responsibility. If you are a proud person, sacrifice and responsibility are the next logical components you have to embrace yourself in," Komphela told the media.
"And then you have to be brave and face it. If I ran away, what should happen to the players? My responsibility is to see to it that I own up and help the players, protect the players, and see to it that things get stable," he said.
"What can you do? You just have to go on. Whatever happens, if you're going through whatever, it means you deserve it and you go through it – it could be a learning process," continued the 50-year-old mentor. 
"So, you just carry on with the job. You can't run away. Maybe we need to go for bravery management, because some people go through anger management," added Komphela.