World Cup
Sterling proud of England for refusing to rise to Colombia's 'silly' games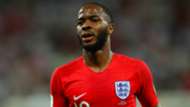 Raheem Sterling considers Colombia's antics during a heated World Cup last-16 encounter to have been "silly", with England having refused to rise to the bait before prevailing on penalties.
The Manchester City forward was among those targeted by the South Americans for some rough treatment during a tetchy encounter at the Spartak Stadium.
After a goalless first half which saw Jordan Henderson headbutted by Wilmar Barrios at one stage, Sterling was barged into by Colombia fitness coach Eduardo Julio Urtasun as he made his way from the field.
The 23-year-old acknowledged the nudge, but was able to keep his cool as he trotted off down the tunnel and eventually saw England make their way into the quarter-finals courtesy of their first ever World Cup shootout victory.
Sterling told reporters of the targeting he received from Colombia, in particular Urtasun: "I just remember running in and someone stepped in front of me.
"There were a couple of times when I went over for a drinks break and he kept saying something. Obviously I don't speak Spanish so I didn't understand but then there was half-time too. I just kind of looked back at him, but we knew their game plan and exactly what they were trying to do.
"We knew what would get thrown at us and that was kind of silly from him. We just keep going, black that out and focus on the football. They're a physical team. They were trying to do everything they could to get into our heads but we kept cool heads and that's the most important thing.
"It's up to the ref to clamp down it and we can't really get involved in it."
England's efforts to ignore the Colombian mind games stretched as far as Harry Kane shrugging off some scuffing of the penalty spot by Johan Mojica to open the scoring for England.
Sterling added on that incident, which came about as the South Americans protested the award of a spot kick for holding at a corner: "I didn't see that, I just saw them trying to get into his ears. For [Kane's] penalty we stuck together and we were trying to get the players away from each other.
"It's credit to him - he works on this stuff in training every single day. Repetition. He keeps a cool head and I had no doubt even in the back of my mind that he wouldn't put it away.
"Before the tournament [Gareth Southgate] has given us everything that could be thrown at us - every single possibility from going behind to the opposition trying to get you yellow or red cards. We knew we had to keep our heads."