England
Sterling backs himself to end England goal drought sooner rather than later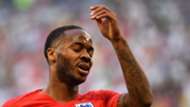 England forward Raheem Sterling has backed himself to end his international goal drought sooner rather than later as the Three Lions prepare to face Spain in the UEFA Nations League.
The Manchester City striker has scored only twice in 45 appearances for his country, with the latter of the two coming over three years ago against Estonia in October 2015, almost a year before Gareth Southgate took charge of the national side.
With captain Harry Kane also misfiring in front of the net and Jamie Vardy having ruled himself out of contention, the pressure to deliver has only increased once again on the 23-year-old, who enjoyed a stellar World Cup in Russia this summer.
Sterling admits that he is likely to be judged on his numbers but he remains confident that once he breaks his duck, the goals will flow for him.
"The main thing now is to keep trying to be a goal threat," the former Liverpool attacker told the Telegraph, after he returned from injury to feature in England's 0-0 draw with World Cup semi-final vanquishers Croatia.
"When I was a bit younger, I wasn't too interested in scoring goals. I was all about looking nice or trying to look nice and show people I've got a lot of ability.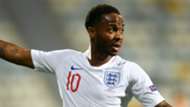 "But no-one remembers the nice stuff you do on the pitch, it's about the effectiveness and what you do for the team. I understand that now and I need to keep that going, especially because I need to get these goals.
"I think I'm probably more driven now. I'm much more confident when I'm in and around the penalty area, so I feel the goals will come for England as they have been doing at City."
Addressing Kane's luckless run, he added: "It's one of those where you always wait for that moment and then the chances will come.
"You have to keep your positivity and you just have to keep being persistent. The goals will come, I'm sure of that."
Sterling was substituted late on by Southgate who gave a debut to Borussia Dortmund teenager Jaden Sancho, whose impressive late cameo caught the eye of his former City team-mate.
"He is a good talent and someone I've thought highly of since the first time I saw him, when he was training with us in pre-season," Sterling added. "I thought highly of him, his work ethic and what he does with the ball.
"To go abroad so young shows a lot about the person. He could have taken the easy route and stayed at City, but he saw himself developing better. He's knuckled down in Germany and, when you're that age, it's probably something you need. I'm really happy for him now he's here with us [England]. Hopefully he can be for a long while."