World Cup
Spain World Cup failure shows even the best need the right coach
When Spain sacked Julen Lopetegui two days before the start of the World Cup following the announcement that he would be joining Real Madrid at the end of the tournament, many suggested that the team could coach itself.
After all, Spain's players know each other well and the side's style has been honed – with a few tweaks – over more than a decade. So RFEF president Luis Rubiales promoted sporting director Fernando Hierro to oversee the culmination of a two-year process under Lopetegui.
Hierro, a former Spain and Real Madrid great, revealed he would be sticking to the blueprint which had seen Spain go unbeaten in 20 games under Lopetegui. "We are not going to deviate one iota from our footballing concepts and what we've been doing for a long time now," he said.
That seemed sensible, even if the sacking of Lopetegui had brought a mixed reaction. Certainly, Real Madrid's behaviour in appointing the national coach and announcing the move just before a World Cup had been arrogant to the extreme, while the Basque boss should have been fully focused on the national team – especially after signing a new contract on May 22.
Lopetegui, subsequently unveiled by Real Madrid on the very day the World Cup started following his Spain sacking, described the dismissal as the "saddest day of my life", but backed Hierro to triumph and bring back the World Cup on July 15.
Hierro's coaching experience was limited to a year alongside Carlo Ancelotti as assistant at Real Madrid in 2014-15 and a single season at Oviedo in 2016-17, leading the Asturian side to an underwhelming eighth-placed finish in Spain's second tier.
Nevertheless, he had the support and backing of the players, even though they had wanted Lopetegui to stay, and many – including former Netherlands defender Frank de Boer – insisted that Spain's side could coach itself.
This tournament, however, has debunked that myth. Spain played well in their 3-3 draw against Portugal in their opener, yet they also made mistakes as a Cristiano Ronaldo hat-trick denied them victory. After that, they needed a fluke Diego Costa goal to edge out Iran and almost lost to Morocco in an uncoinvincing group victory.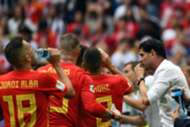 Safely through to the last 16, they were drawn against Russia, ranked 70 in the world by FIFA – the lowest of any team at the World Cup. The hosts had lost their final group game 3-0 to Uruguay and Spain were not expected to have too much trouble in reaching the last 16.
Before kick-off, Hierro hugged Russia boss Stanislav Cherchesov in what looked like a meeting of old friends. There is nothing wrong with such warmth, of course, but it did not look like the body language of a successful coach.
The 50-year-old left out Andres Iniesta in a decision that has been hugely criticised, yet his biggest faling was his inability to transmit to his players an idea as the team passed the ball around more than 1,000 times but needed an own-goal to score at all and eventually crashed out of the competition in a penalty shootout.
Two weeks before the final, Spain are heading home at the same stage as Argentina, a team they thrashed 6-1 in March under Lopetegui, with all their tremendous potential unfulfilled. Even the very best teams cannot coach themselves.