Italy
Spain v Portugal, England v Iceland: How the Euro 2016 last-16 draw could look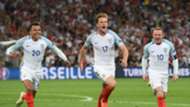 Portugal's draw with Iceland on Tuesday concluded the first round of fixtures at Euro 2016 but what if the last-16 draw were to be made right now?
Goal has taken a hypothetical look at how the first knockout round of the tournament in France would look if the group phase finished as things currently stand, with Spain being paired with Portugal and England meeting Iceland.
Elsewhere, Germany, who defeated Ukraine 2-0 on Sunday courtesy of goals from Shkodran Mustafi and Bastian Schweinsteiger, would tackle Russia and Italy, so impressive in their opener against Belgium, would face Croatia.
PROJECTED LAST 16

OF EURO 2016

SWITZERLAND 
-
POLAND
SPAIN
-
PORTUGAL
 
WALES
-
ROMANIA
HUNGARY
-
 REPUBLIC OF IRELAND
GERMANY
-
 RUSSIA
ITALY
-
 CROATIA
 
FRANCE
-
 SWEDEN
ENGLAND
-
 ICELAND